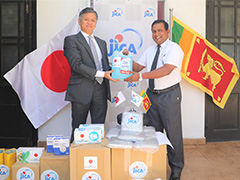 Mr. Weerasekara (Secretary) and Mr. Yamada (Chief Representative)
Given the concerns about possible increase in the number of COVID-19 patients after the upcoming Sinhala • Tamil New Year Holidays, which had been observed before, JICA provided a substantial number of COVID-19 Personal Protective Equipment (PPE) for protecting essential workers engaged in solid waste management services in the nation on 7th April, 2022. Mr. Yamada Tetsuya, Chief Representative, JICA Sri Lanka Office, handed over PPE to Mr. W.M.M.B. Weerasekara, Secretary to the State Ministry of Provincial Councils and Local Government Affairs with the attendance of Commissioners of Local Governments.
This grant amounting to Rs.17 million provides PPE necessary for about 2,000 workers all over the country to continue their essential services.
The distribution of a considerable amount of PPE was accomplished quickly and effectively thanks to the well-functioning nationwide mechanism led by NSWMSC (National Solid Waste Management Support Centre).
In the past 20 years, JICA has been extending technical support for solid waste management, and the establishment of NSWMSC was recommended in 2003. Afterwards, JICA has provided continuous assistance toward sound solid waste management in the nation.
Mr. Yamada stated that "this is the 3rd provision of PPE for the solid waste management workers and the 1st realization of nationwide PPE distribution, which could not have been achieved without the strong initiative by NSWMSC. It is our great honor to realize this nationwide support efficiently after 20 years of providing our recommendation to set up such a mechanism, as well as in the year of the 70th anniversary of the establishment of diplomatic relations between Japan and Sri Lanka. We would like to continue close cooperation for keeping this beautiful island safe and clean."
Japan International Cooperation Agency (JICA) is an incorporated administrative agency in charge of administering Japan's Official Development Assistance (ODA), is one of the world's largest bilateral aid agencies supporting socioeconomic development in developing countries in different regions of the world. Under its new vision of "Leading the world with trust" set out in July 2017, JICA supports the resolution of issues in developing countries through a flexible combination of various types of assistance methods. In Sri Lanka, Japan has been providing financial and technical assistance since 1954 and is one of the largest donors to the country. On behalf of the people of Japan, JICA contributes to improve the lives of people in Sri Lanka.