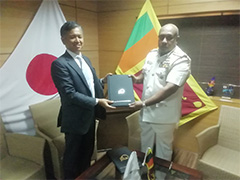 Further Strengthening Japan-Sri Lanka ongoing Maritime Cooperation, a Record of Discussion was signed on 4th May, 2022 between Rear Admiral Gewman Ekanayake, Director General to Sri Lanka Coast Guard and Yamada Tetsuya, Chief Representative of JICA Sri Lanka office at Coast Guard rear Headquarters in Wellawatta, agreeing to a three-year JICA Technical Cooperation project on Oil Spill Response (OSR) capability improvement of Sri Lanka Coast Guard (SLCG).
Within the three year duration from year 2022 to 2024, JICA will collaborate with Japan Coast Guard in dispatching Japanese experts specialized in OSR activities to Sri Lanka to conduct essential training of SLCG staff, while supporting SLCG to establish an independent and continuous in-house training system and a management system for operation and maintenance of training materials and equipment, further intensifying OSR capabilities of SLCG built through former JICA technical assistance. At the end of the project period, it is expected that SLCG instructors in the field of OSR will be trained to conduct OSR training more effectively and independently.
JICA has been constantly supporting SLCG's OSR operations since 2016 through accepting trainees in Japan, while providing Advisory Services and indispensable equipment and domestic training based on different disaster scenarios enabling SLCG to react to any oil spill incident effectively and promptly. To further enhance operating systems, JICA provided Grant cooperation in year 2018 through handing over of two Fast Patrol Vessels (FPVs) to SLCG that were designed and built in Japan adapting to local situations and necessities.
Located in the Trans-Indian ocean traffic, Sri Lanka has become more and more vulnerable to maritime related disasters, in a context where significant portion of global crude oil transportation and cargo shipments take place in nearby commercial ship lanes. The recent X-Press Pearl incident is an excellent case, identified as one of the worst maritime disaster that have struck Sri Lanka in the recent past having significant impact on Sri Lanka's economy, coast and community livelihoods. The impact of the incident caused on sensitive coastal biodiversity of Sri Lanka is predicted to continue to several more years to come.
In establishing a resilient approach to Disaster prevention and Marine Environment Protection JICA will continue to closely work with SLCG through various cooperation schemes.
Japan International Cooperation Agency (JICA) is an incorporated administrative agency in charge of administering Japan's Official Development Assistance (ODA), is one of the world's largest bilateral aid agencies supporting socioeconomic development in developing countries in different regions of the world. Under its new vision of "Leading the world with trust" set out in July 2017, JICA supports the resolution of issues in developing countries through a flexible combination of various types of assistance methods. In Sri Lanka, Japan has been providing financial and technical assistance since 1954 and is one of the largest donors to the country. On behalf of the people of Japan, JICA contributes to improve the lives of people in Sri Lanka.