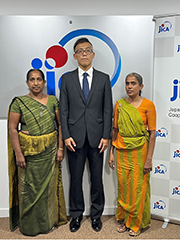 Mr. Takeuchi with his counterpart Ms. Ajantha Weerasekara, Community Development Officer (right) and Ms. Kumuduni Priyashantha, Development Officer (Environmental and Solid Waste) from Provincial Department of Local Government, Northwestern Provincial Council
Mr. Takeuchi Yoshiro a new Japan Overseas Cooperation Volunteer (JOCV) arrived in Sri Lanka on the 2nd of August with the aim of providing his expertise to improve and add value to activities carried out by the National Solid Waste Management Support Center of the State Ministry of Provincial Council and Local Government Affairs. Over a 1,000 Japanese volunteers have come to Sri Lanka within a span of 40 years as a part of JICA's on-going Volunteer Dispatch Program; and they possess a variety of skills covering several technical fields. Mr. Takeuchi is specialized in Environmental Education. He will be dispatched to the Provincial Department of Local Government of the Northwestern Provincial Council in support of waste management related awareness activities about 3R(Reduce, Reuse, Recycle)at household, school and institutional level. The new volunteer was introduced to his host organization at an assigning ceremony, which was held at JICA Sri Lanka Office, on 1stth September. The occasion was graced by Officials of the Department of External Resources, volunteer's host organization and JICA Sri Lanka Office.
The strengths of JICA's volunteers are their practical approach to problem solving and the use of local languages (Sinhala) which enables them to understand and speak to the hearts and minds of local people. These volunteers use extremely creative means of communication which is essential for effective training/teaching, and are able to positively influence those who work with them due to their attitudes, strong sense of discipline and team work. These volunteers not only transfer technical skills, but also share knowledge on cultural aspects, and most importantly, build strong and long lasting friendships with local people that outlast their stay in Sri Lanka.
Since the inception of JICA's Volunteer Dispatch Program in Sri Lanka in 1981, a total 1,154 volunteers have worked in Sri Lanka, and their contribution towards development activities at grass-root level is greatly valued by the organizations that have received their services. Currently, one volunteer assigned to the Urban Council in Kuliyapitiya in the same specialty and conduct activities which include visiting multiple schools to teach children how to separate garbage and to raise awareness about 3R through workshop. It is expected that the two volunteers will share their knowledge and skills with each other and tackle the challenges of Sri Lanka.