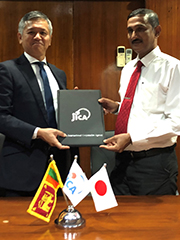 On 26th September 2022, the amendment of Record of Discussion (R/D) of the technical cooperation "Project for Strengthening COVID-19 Response" was successfully concluded between Mr. S. Janaka Sri Chandraguptha, Secretary of Ministry of Health and Mr. Tetsuya Yamada, Chief Representative of JICA Sri Lanka office.
Original Input from JICA for this project was to provide Rs.300mn worth essential equipment for the base hospitals in Teldeniya, Warakapola, Walikanda, Pimbura, Nawalapitiya, Hingurakgoda, Karawanella, and Avissavella (for mainly treatment) and District General Hospital Hambantota (for particularly PCR tests) and to provide online training, for strengthening capacities in the preparedness and development for diagnostics and treatment services to combat infectious diseases including COVID-19.
JICA has decided to provide additional support to procure medicine under this project, responding to the serious medicine shortages in Sri Lanka. Sri Lanka is still facing serious shortages of medicine due to the ongoing crisis. Some hospitals need to suspend their surgeries because of lack of medicines and surgical equipment. The prices of medicines are rapidly increasing, which are mostly imported but unable to import because of the current situation in Sri Lanka. WHO says that the health care system at the national level suffers from shortage of 121 essential medicines as of September 2022. JICA hopes that the additional procurement of medicine contributes to mitigate the serious impact on the health services.
Yamada states that this emergency aid is to secure lifesaving medicines to be procured promptly, and JICA will carry out this support in close cooperation with MOH and other related parties from Sri Lankan side so that the medicines to be procured will reach people in need as soon as possible.
The year 2022 marks the 70th Anniversary of the establishment of diplomatic relations between Japan and Sri Lanka. The Government of Japan as well as JICA have been supporting the Sri Lankan healthcare system for a long time and will continue the cooperation in this sector for further upgrade of quality of medical services and the hospital system in Sri Lanka.