The 12th Annual Research Symposium of National Building Research Organization (NBRO) was held on 26th January 2023 at Bandaranaike Memorial International Conference Hall (BMICH) in Colombo themed on "Building Resilience Amidst Economic Challenges".
General Kamal Gunaratna, Secretary to the Ministry of Defense attended the event as the Chief Guest. Mr. Yamada Tetsuya, Chief Representative of JICA Sri Lanka made the guest speech on JICA's operation related to Disaster Risk Reduction (DRR). Prof. Sirimal Abeyratne, Head, Department of Economics, University of Colombo made the Keynote Address focus on the current economic crisis and influences on disaster risk reduction.
Also, a special presentation was made by Ms. Kojima, Officer in charge of NBRO-JICA projects at JICA Head Quarters from Tokyo on JICA's global agenda on DRR.
Project SABO, which was being implemented by NBRO and JICA until October 2022 was one of the key elements in this symposium. The project focused on non-structural measures for landslide disaster risk in Sri Lanka and introduced several novel concepts especially on land use planning and policy. The land use guidelines and standards published by the project were launched at this event. The materials were handed-over by Mr. Yamada Tetsuya to Dr. Asiri Karunawardena, Director General of NBRO. A video documentary made by NBRO focused on the project was telecasted during the event. NBRO expressed their gratitude to JICA for its long-term cooperation. JICA Sri Lanka Office will continue to be committed to the improvement of the DRR in Sri Lanka.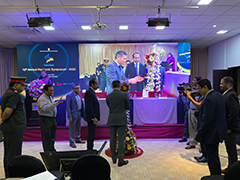 Oil Lamp Ceremony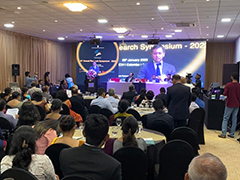 Guest Speech by Mr. Yamada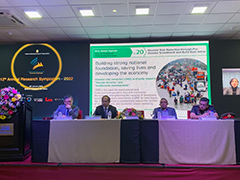 Presentation by Ms. Kojima, JICA HQ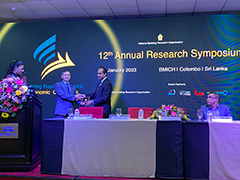 Taking Over Token from NBRO
For more Information: