JICA Alumni Association is the association of ex-JICA trainees and was established in 1972 with the purpose of promoting their learnings in Japan especially on Japanese culture and technology in Sri Lanka. The Association has been conducting various social and communal events every year in collaboration with JICA Sri Lanka Office.
As part of their social development program, JICA Alumni Association recently provided assistance to support ex-convicts to initiate their own professional career and life after release form the prison. This event was closely coordinated with the Department of Police and Prison in collaboration with JICA. Three day workshop was conducted by the JICA Alumni Association members in the prison for the selected eighteen prisoners from February 27th to March 01st 2023. Agriculture, tailoring, masonry, carpentry are selected based on the prisoners skills and interests. Materials, equipment and tools that they need for work in these areas immediately after the release from prison were handed-over on the 10th March when they are released from prison.
Mr. Katsuki Kotaro, Deputy Head of Mission from Embassy of Japan, Mr. Yamada Tetsuya, Chief Representative of JICA, Mr. Thushara Upuldeniya, Commissioner General of Prison, Mr. Chandana Ekanayake, Deputy Commissioner General of Prison (Rehabilitation and Skill Development) and Mr. Nihal Thalduwa, Senior Superintendent of Police (Media Spokesman) have participated in this hand-over ceremony.
The Officials from Department of Police and Prison emphasized that "generally when the prisoners are released they go to the community without any focus on their livelihood, but this time they are released with some hope, the materials provided are very much useful for them especially most of them already involved with these types of livelihood options. They highly appreciated JICA Alumni and JICA for their social intervention especially to the grass-root level communities.
Mr. Yamada, Chief Representative of JICA Sri Lanka Office highlighted that "our both country's development relationship has initiated since 1951 with the San Francisco Conference and we have been helping each other since then. JICA implements various project including infrastructure development. But Human Resource Development is also a key area for JICA's operations in Sri Lanka and JICA Alumni Association is one of the outcome. They implement various social development programs in collaboration with us. We cannot abandon the ex-convicts as they are part of our community. Therefore, this kind of support to develop their skills to ease their ways towards a new life are very much helpful especially during this current economic crisis.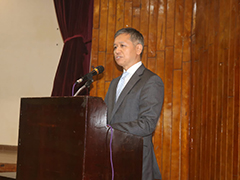 Speech by Mr. Tetsuya Yamada, Chief Representative, JICA Sri Lanka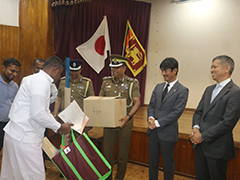 Distribution of Livelihood equipment and tools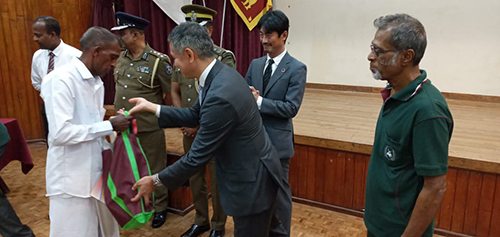 Lighting the traditional oil lamp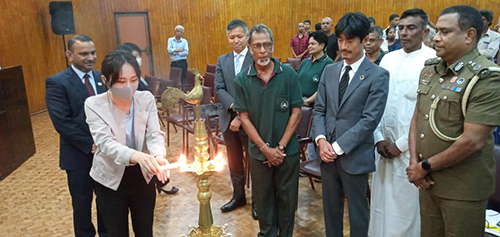 Distribution of Livelihood equipment and tools