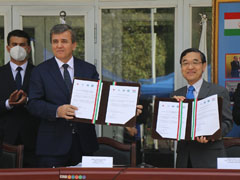 Japan International Cooperation Agency (JICA) Tajikistan Office and Aga Khan Agency for Habitat (AKAH) jointly assisted the State Unitary Enterprise "Khojagii Manziliu Kommunali" (SUE «KMK») to strengthen their capacity of service delivery for drinking water supply under the ongoing project framework Strengthening the Water Service Management of Pyanj and Khamadoni Vodokanals in the Republic of Tajikistan.
Drinking water supply has been one of the main areas of cooperation between the government of Japan and Tajikistan. In this regard, JICA has been assisting the SUE KMK to ensure safe drinking water in its Technical Cooperation Project "Strengthening the Water Service Management of Pyanj and Khamadoni Vodokanals in the Republic of Tajikistan" as one of its strategic fields of cooperation.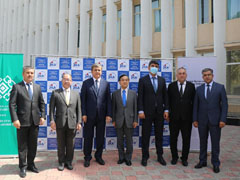 Taking into account the current COVID19 pandemic crisis in Tajikistan, continuous and stable supply of safe drinking water should have the highest priorities for the people in order to maintain and improve their sanitary conditions and hygiene to prevent them from infectious diseases of water-origin as well as COVID-19. In this regard, JICA is financially and technically assisting KMK under the above ongoing project framework and urgently procure, import and deliver 300 metric tons of Calcium Hypochlorite to all district level vodokanals for purifying drinking water, with the total cost of 9,555,000 Tajik Somonis which will cover about 5 months in whole Tajikistan.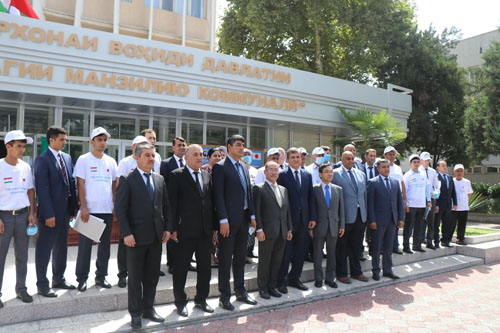 In this emergency cooperation, AKAH mobilized its national volunteer network to ensure the delivery of the donated chlorine to vodokanals, helped vodokanal staff to collect delivery notes, helped checking the quality of the delivered goods. AKAH has been working to expand their surge capacity with the Committee on Emergency Situations (COES). As such, under this COVID19 pandemic, this stand-by network was activated.
Both JICA and AKAH have been providing support to the Government of Tajikistan to improve livelihood and access to safe drinking water. Together with the Government of Tajikistan, JICA and AKAH will continue strengthening drinking water supply system to achieve the SDG 6 and ensure access to safe water and sanitation for all.
JICA began its technical cooperation with Tajikistan in 1993 by inviting Tajik officials to gain knowledge and experience on governance and macroeconomics development. As of January 2018, a total number of participants to JICA's Knowledge Co-Creation Programs, formerly called the Training Programs, has exceeded 2200 people. JICA Office was established in 2006 in Tajikistan and since then various Grant Financial Assistance and Technical Cooperation projects have been implemented more dynamically, aiming at improving living standard of Tajik people for the sectors such as agriculture and rural development, water supply, health, transport, energy, capacity building as well as SME promotion. JICA's cumulative investment portfolio in Tajikistan in all sectors comprises 41 projects amounting to more than 401,4 mln. USD (83.7 mln. USD for Technical Cooperation and 317,7 mln. USD for Grant Assistance), including 12 ongoing projects.