Recently, the industrial sector in Tanzania has been facing big challenges due to the global pandemic of COVID-19. Most markets are scaled down globally, and companies, especially Small and Medium Enterprises (SMEs), are struggling with running their businesses continuously.
In this situation, the "Project on Strengthening Manufacturing Enterprises through Quality and Productivity Improvement (KAIZEN)", which is the technical cooperation project between the Ministry of Industry and Trade (MIT) and the Japan International Cooperation Agency (JICA), organized an online-based distance KAIZEN training on 23-24 April 2020. The training was successfully conducted with over 25 participants from 17 different venues in Tanzania and Japan.
"KAIZEN" is originally a Japanese word meaning "Improvement" and, in the business administration, KAIZEN means the management philosophy and know-how for "continuous quality and productivity improvement" of organizations. KAIZEN is also a human-oriented approach fostering teamwork, mindset change, self-reliance, creativity, and ingenuity to come up with ideas for solutions to the problems we face, including those here in Tanzania.
That distance training's subject was the Training of Trainers (TOT) for "KAIZEN Service Provision to Industrial Clusters (KAIZEN x Cluster)" as a part of the KAIZEN project, and it was organized in collaboration with MIT, the Small Industries Development Organization (SIDO) and JICA. The TOT is the first step of the KAIZEN Service Provision, and, based on that, the "KAIZEN x Cluster" pilot activities will be implemented in selected industrial clusters in Dodoma, Morogoro, Mbeya and Kagera Regions this year.
Utilizing those pilot activities, over 300 micro, small and medium enterprises in the clusters will acquire the skills of efficient production through KAIZEN consultations conducted by KAIZEN trainers from SIDO, College of Business Education (CBE) and other related organizations. It will also contribute to the preparation of SMEs' high-growth after the COVID-19 situation calms down.
JICA will continue supporting "Industrialization" in Tanzania through its technical and financial cooperation, utilizing online technology as well incl. distance learning as above in order to correspond the current COVID-19 situation, and thereby we can get through these tough times together.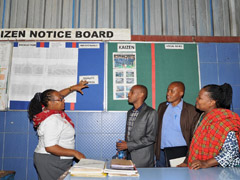 Consultation and guidance by a KAIZEN Trainer to a Tanzanian enterprise
For further information, please contact:
JICA Tanzania Office, P.O. Box 9450, Dar es Salaam,
Tel: 022-211327/30 Fax: 022-2112976
Ms. Hiroko Makita Makita.Hiroko2@jica.go.jp
Ms. Mariam El Maamry Maamry-Mariam@jica.go.jp
About JICA (Japan International Cooperation Agency)
An incorporated administrative agency in charge of administering Japan's ODA (Official Development Assistance), is one of the world's largest bilateral aid agency supporting socioeconomic development in developing countries in different regions of the world.
Especially here in Tanzania, JICA has been a long partner of Tanzania for more than 50 years in many sectors since 1962.