The Japan International Cooperation Agency (JICA) in collaboration with the Ministry of Industry and Trade (MIT) has been implementing the "Project on Strengthening Manufacturing Enterprises through Quality and Productivity Improvement (KAIZEN)" and the"Cluster Development Support Project" through the Small Industries Development Organization (SIDO).
This year the three parties, i.e. JICA, MIT, and SIDO, combined the two projects to provide KAIZEN service to Industrial Clusters for the purpose of disseminating KAIZEN movement and increasing competitiveness of the industries in Tanzania.
As a start, the parties organized sensitization seminars for the clusters available in Dodoma and Morogoro. The seminars were organized from 01 to 11 June 2020 and their main objectives were to introduce the three KAIZEN tools, namely "5S" (workplace organization by Sorting, Setting in order, Shining, Standardizing, and Sustaining), "Muda-dori" (waste elimination), and "Why-why analysis" (root-cause identification).
The seminars were conducted in small groups of people in accordance with the instructions given by the Ministry of Health regarding COVID 19 precautions. Such seminars will also be rolled out to Mbeya Region.
A total of 90 people drawn from different Industrial Clusters attended the seminars to acquire knowledge about KAIZEN techniques. The seminar was conducted by KAIZEN trainers from the Tanzania Kaizen Unit (TKU) of MIT, SIDO, and the private sector.
These seminars will be followed up by in-depth training and on-site consulting at a few companies selected from the cluster members as pilot sites. Morogoro is ahead of other clusters and started accepting individual KAIZEN consulting service at selected pilot companies from late June 2020.
In this situation of COVID 19, Japanese experts assigned to the JICA-supported projects continue to support the local KAIZEN trainers by organizing follow-up activities utilizing online technologies.
JICA will continue supporting industrial clusters in Tanzania through technical cooperation and the provision of some necessary funding, so that we can get through these tough times together.
"KAIZEN" is originally a Japanese word meaning "Improvement" and a management philosophy and know-how for continuous quality and productivity improvement of concerned organizations. It is also a human-oriented approach fostering teamwork, mindset change, self-reliance, creativity and ingenuity to come up with ideas for solutions to the problems we face in Tanzania. "Industrial Cluster Development" is an approach which aims to drive industrialization by taking advantage of clustering, grouping geographically proximate and interconnected companies and associated institutions in a particular field. Encouraging proactive involvement of various actors along and around value chains and inducing collaboration among them help to promote innovation and local industrialization.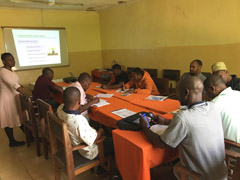 KAIZEN sensitization seminar in Morogoro
For further information, please contact:
JICA Tanzania Office, P.O. Box 9450, Dar es Salaam,
Tel: 022-211327/30 Fax: 022-2112976
Ms. Hiroko Makita Makita.Hiroko2@jica.go.jp
Ms. Mariam El Maamry Maamry-Mariam@jica.go.jp
About JICA (Japan International Cooperation Agency)
An incorporated administrative agency in charge of administering Japan's ODA (Official Development Assistance), is one of the world's largest bilateral aid agency supporting socio-economic development in developing countries in different regions of the world.
In Tanzania, JICA has been a long partner of Tanzania for more than 50 years in many sectors since 1962.