On September 11, 2020, the Tanzania Kaizen Unit (TKU), which is the unit in the Ministry of Industry and Trade (MIT), in collaboration with the Small Industries Development Organization (SIDO), the College of Business Education (CBE), and the Japan International Cooperation Agency (JICA), conducted a one-day KAIZEN stakeholders' workshop in Singida Region. This workshop focused on raising awareness among participants on the importance of KAIZEN and national plans for KAIZEN mainstreaming. This was the first step in building the local capacity of KAIZEN in Singida Region on the lines of the "Framework for Quality and Productivity Improvement (KAIZEN) in the Manufacturing Sector 2020-2030" (FKM 2020-2030) which was officially launched by MIT last month.
The workshop attracted more than 80 participants drawn from government institutions, business enterprises, financial institutions, and other providers of Business Development Services in Singida Region. The workshop featured CBE as the major stakeholder in the area of KAIZEN training. CBE has the responsibility of preparing Kaizen trainers in various regions in the country in accordance with the FKM Implementation Logical Framework issued by MIT.
Above 4 institutions, i.e. MIT, SIDO, CBE, and JICA, organized a joint team, and have conducted similar workshops in 7 other regions including Arusha, Dar es Salaam, Dodoma, Kilimanjaro, Mbeya, Morogoro, and Mwanza. Through such mobilization efforts, more than 7,800 participants have so far been sensitized by KAIZEN philosophy and methodology. Additionally, the team has implemented more specialized KAIZEN training, whereby so far more than 200 KAIZEN coordinators and 298 KAIZEN trainers have been trained. As a result, 175 KAIZEN trainers have been officially registered, including 38 leading trainers called "Advanced Kaizen Trainers". The aim of such KAIZEN workshops and trainings is to reach more areas quickly both in urban and rural sectors. Consequently, more than 132 companies have benefited from KAIZEN (of which 25% are large companies and 75% are SMEs). The team expects to have more beneficiaries through the workshop and the KAIZEN training in Singida Region.
In order to further disseminate the positive results of KAIZEN, MIT has prepared a 10-year National Plan for KAIZEN mainstreaming, sustainable development and industrial productivity in the country, i.e. FKM 2020-2030. This initiative focuses on the consistent mechanism for the KAIZEN dissemination nationwide and the establishment of sustainable KAIZEN training programs. This initiative targets the manufacturing sector in the hope of being used to persuade or attract other sectors to learn from their peers in changing the attitudes of executives to work harder, more unitedly, and more creatively. Additionally, in implementing this initiative, the KAIZEN philosophy has already been integrated into the development of industrial clusters in the country. The long-term plan is to spread the KAIZEN philosophy to cover all sectors of the economy in the country.
MIT and JICA has been implementing a "Project on Strengthening Manufacturing Enterprises through Quality and Productivity Improvement (KAIZEN)" since 2013 and now the project is in its phase 2 started in 2017. JICA will continue supporting KAIZEN in Tanzania through its technical cooperation and the provision of necessary funding in order to achieve our goals for industrialization together.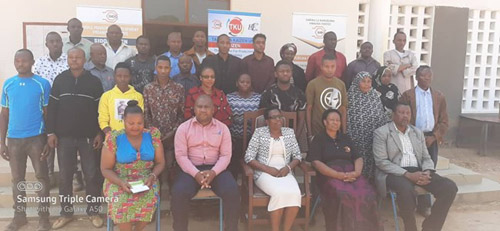 KAIZEN Workshop in Singida Region
For further information please contact:
JICA Tanzania Office, P.O. Box 9450, Dar es Salaam,
Tel: 022-211327/30 Fax: 022-2112976
Ms. Hiroko Makita Makita.Hiroko2@jica.go.jp
Ms. Mariam El Maamry Maamry-Mariam@jica.go.jp
About "KAIZEN"
"Kaizen" is originally a Japanese word meaning "improvement". It is a management philosophy and know-how for continuous quality and productivity improvement of concerned organizations. It is also a human - oriented approach which fosters teamwork, mindset change, self - reliance and creativity in the concerned enterprises. This approach has been very instrumental in promoting industrialization in Japan and elsewhere in the world.
About JICA (Japan International Cooperation Agency)
An incorporated administrative agency in charge of administering Japan's ODA (Official Development Assistance). It is one of the world's largest bilateral aid agency supporting socioeconomic development in developing countries in different regions of the world. In Tanzania, JICA has been a long time partner of Tanzania for more than 50 years in many sectors since 1962.