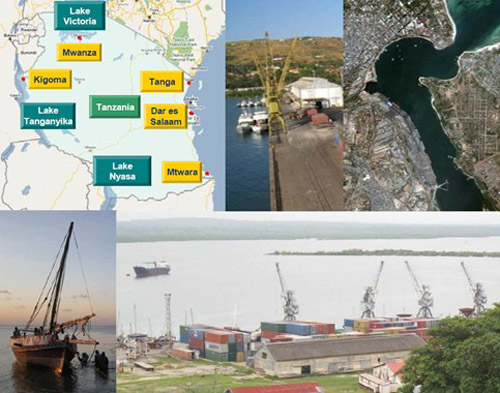 (from Tanzania Ports Master Plan)
To share JICA's activities regarding inter and intra-regional trade and logistics facilitation and discuss future plans and priorities among stakeholders, JICA Tanzania is holding this workshop by inviting governmental organizations, private sectors and development partners regarding transport infrastructure, logistics and industrial development through port infrastructure development in particular. This workshop was done by connecting Japan and Tanzania through video conference system.
Venue of the workshop was Serena Hotel, Dar es Salaam from 10:00 AM to 12:30 PM on Wednesday 18th November 2020. The participated high ranking officials included Ms. Amina Shaaban, Deputy Permanent Secretary of Public Finance management (DPS-PFM), Ministry of Finance and Planning, Ms. Sauda K. Msemo ,Commissioner of External Finance Department (CEF), Ministry of Finance and Planning as well as Mr. Khamis Mussa Omar, Principal Secretary Treasury Zanzibar, Mr. Mustapha Aboud Jumbe, Principal Secretary, Ministry of Works, Transport, Communication, Zanzibar and other stakeholders as officials from World Bank, African Development Bank, Foreign Commonwealth and Development office of UK(FCDO).
1. JICA's cooperation on regional infrastructure development
Japan International Cooperation Agency (JICA) is one of the international partners in economic and social infrastructure development by grant and loan projects supplemented by technical assistance in related area. We work globally including Asia, Africa, Americas Middle East.
In Africa, JICA's concerns include major corridor development as the Northern Corridor and the Central Corridor. JICA's cooperation in the region includes support to relevant governments in One Stop Border Post (OSBP) activities by technical cooperation, improving key regional roads as well as ports for regional trade in Indian Ocean and inland waters by grant and loan projects. JICA also facilitates regional cooperation and development by Advisor for Regional Infrastructure Development for East African Community Secretariat (JICA expert).
2. Workshop
1) Opening remarks by Mr. MATSUYAMA Satoru, Senior Representative, JICA Tanzania office
Introducing JICA's long collaboration with the Government of Tanzania for more than four decades.
Explaining that there is a need to see the development and enhancement of ports development in terms of facilities and functions because of growing trade through ports with Indo-Pacific and beyond between Africa and rest of the world in this globally connected world. That's why JICA has conducted the study of "Grand Design for Global Logistics in Indo-Pacific Region" in 2019;
JICA's cooperation in the region in infrastructure development was presented and future cooperation in this area was recommended by JICA for further development.
2) Project study on the Grand Design for Global Logistics in the Indo-Pacific Region - presentation by JICA study team (Mr. ONODERA, Pacific Consultants co., ltd.)
Reporting the result of the study that estimated the impact of hard and soft infrastructure development, such as Corridor development and establishment of legal framework for elimination of tariff and non-tariff barriers, on the regional trade volume and cargo demand for major ports. It will emphasize importance of development planning based on quantitative evidence and analysis.
Pointing out the importance of Dar es Salaam Port and development needs because the future cargo demand will exceed the currently planned port capacity as per the study's prediction. For example, future demand estimated in the study is 2.2 mil TEU while the current capacity of Dar es Salaam Port is 0.3 mil TEU.
3) Measures and challenges on improvement of connectivity in the EAC region - presented by Mr. HIRAYAMA Shuichi, Advisor for regional infrastructure development in the EAC, dispatched by JICA
Introducing the measures taken by the EAC regarding soft and hard infrastructure development for improvement of intra-regional connectivity, such as establishment of legal framework and corridor infrastructure development
Introducing the current situation and measures of the Covid-19 in the EAC region, and JICA's future cooperation. E.g. overview of EAC Covid-19 Response Plan, JICA's cooperation at cross border transport control
4) Case study of JICA's cooperation in port sector - presented by Mr. SASA Kenji, Senior Advisor for infrastructure department, JICA
As the project study shows the importance of port development, particularly Dar es Salaam Port, Mr. SASA introduced its cooperation experiences in port sector. In the case study in port development in Cambodia, JICA's approach of the combination of financial support (loan) and technical assistance (technical cooperation projects) was introduced as a successful example for a comprehensive support.
Introducing several activities which improved container handling capacity, entry and exit control and congestion around gates as a capacity development. Additionally, JICA training program in Japan was introduced.
5) Discussion
From the findings of presentations, the participants realized the challenges ahead for the port development in the region and the Port of Das es Salaam in particular where the capacity gap in the coming years was clearly indicated.
A wholistic approach was recommended for the improvement of trade in the region not only the physical infrastructures but also soft infrastructure as trade facilitation by OSBP and capacity development of those people in the port operation.
In addition to the importance of ports in the region, the importance of other interfaces of transport as roads and railways was also emphasized because such goods from the ports need to be reached out to the land-linked countries by those transport.
For more Information, please contact:
Ms. Flavia Manyanga
JICA Tanzania office, P.O Box 9450, Dar es salaam
Tel: 022-2113727 - 30 Fax: 022-2112976
Email: manyangaflavia.TZ@jica.go.jp,
Photos of workshop