"I learnt the rice cultivation technologies from a Japanese whose name was Mr. Tomitaka. Since then I have always used such technologies to produce more and better rice than before", a rice farmer in Kilombero District remarked.
Mr. TOMITAKA Motonori, is a former Chief Advisor of a Tanzania-Japan technical cooperation called the "Project for Supporting Rice Industry Development in the United Republic of Tanzania (TANRICE2)" which was jointly implemented by the Ministry of Agriculture (MoA) and the Japan International Cooperation Agency (JICA). He is one of the recipients of the Japanese Foreign Minister's Commendation Award in 2020.[1]
Mr. Tomitaka has worked for agriculture development, particularly in the promotion of rice cultivation in African countries, as a JICA Expert since 1983. For nearly 20 years since 1986 based on the Kilimanjaro Agricultural Training Center (KATC) of MoA, he played a fundamental role in a series of technical cooperation projects conducted by MoA and JICA. He particularly emphasized on the provision of outreach services to farmers' fields directly, so that such farmers were able to learn technologies suitable to their own environments. Those "rice cultivation technologies" (including straight row transplanting, bund making to catch water, levelling to store water evenly in a plot, seed selection, etc.), which were developed by KATC in Kilimanjaro, were later on disseminated to the whole country. In addition to the provision of such rice cultivation technologies, TANRICE2 also provided several specific training programs on the "irrigation scheme management", "gender", "marketing", "agricultural mechanization", etc., all aimed at increasing rice production and hence enhance the livelihoods of people living in the rural areas. Now, because of these efforts by MoA and rural farmers all, Tanzania's rice production increased 6 times in 20 years, i.e. from 0.5 million tons in 1986 to 3.0 million tons in 2018 (FAOSTAT), which is a highly remarkable expansion.
Though Mr. Tomitaka has mainly worked in Tanzania, he also worked in Thailand, Ghana, and Uganda as an agricultural expert to promote agriculture and rural development in those countries.
The Japanese Foreign Minister's Commendations Awards are accorded to individuals and groups of people with outstanding achievements in international fields, in order to acknowledge their contributions to the promotion of friendship between Japan and partner countries/areas. The Commendations also aim at promoting the understanding and support of the public for the activities of the recipients. Last year, Dr. Edwin Mhede, the Commissioner General of the Tanzania Revenue Authority (TRA), was one of the recipients of this Commendations Awards.
In 2020, the Commendations were awarded to 65 groups and 172 individuals, including Mr. Tomitaka, who was selected as one of those recipients by highly recognizing his contribution to the promotion of international cooperation, especially in the technical cooperation field. Mr. Tomitaka stated, "I receive this Commendation appreciating all of Tanzanian farmers."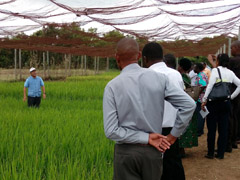 Mr. Tomitaka, explaining the rice variety to the trainees from Egypt at KATC in Kilimanjaro, December 2017. Because Tanzania is one of major countries for rice production, a large number of trainees from other African countries have often visited KATC to study its achievement of the rice production increase in the country.
About JICA (Japan International Cooperation Agency)
An incorporated administrative agency in charge of administering Japan's ODA (Official Development Assistance). It is one of the world's largest bilateral aid agency supporting socio-economic development in developing countries and in different regions of the world.
In Tanzania, JICA has been a long partner of Tanzania for more than 50 years in many sectors since 1962.
For more information please contact:
JICA Tanzania Office, P.O. Box 9450, Dar es Salaam,
Tel: 022-2113727/30 Fax: 022-2112976
Ms. YAMADA Namiko / 0682215969 / Yamada.Namiko@jica.go.jp
Ms. Ridda A. Dally / 0699806920 / Andrew-Ridda@jica.go.jp