From 8th to 18th December 2020, Japan International Cooperate Agency (JICA) and the Ministry of Industry and Trade (MIT) jointly organized an online virtual training program at Dar es Salaam Serena Hotel. Totally 22 participants were joined from MIT, some Regional Administrative Secretary's offices (i.e. Dodoma, Dar es Salaam, Mbeya, and Pwani), Small Industries Development Organization (SIDO), College of Business Education (CBE), etc.
MIT and JICA have been implementing a technical cooperation project called the "Project on Strengthening Manufacturing Enterprises through Quality and Productivity Improvement (KAIZEN)" since 2013, in order to progress Tanzanian KAIZEN Movement toward a nationwide expansion, and improve competitiveness for private enterprises in Tanzania through KAIZEN. The training was a component of the Project. One of the current main activities of the Project is to promote and implement the "Industrial Cluster Development" through KAIZEN (called the "KAIZEN x Cluster approach") from early 2020. Thus, this online training focused on such the KAIZEN x Cluster approach for participants from related organizations to acquire and deepen knowledge to promote industrial cluster.
Almost all of the contents in the training were provided from Japan via online. Participants learnt from lecturers of several Japanese experts, discussions with Japanese enterprises/ governmental organizations, and group study through online, videos, and exercises. In addition, the training included virtual visits to Japanese enterprises that implement KAIZEN, local governments, and associations/ cooperatives that promote industrial cluster development in Japan.
The training was composed of two parts. The first part was organized for KAIZEN Trainers and practitioners who involve in the deployment of a model for KAIZEN promotion through industrial cluster development from 8th to 16th December. The second part from 16th to 18th December was designed for high-ranking government officials, including Dodoma RAS Mr. Paul Kessy Maduka, who are responsible for planning and facilitating policies for nationwide KAIZEN promotion. As a part of the training program, participants of the first part were able to improve a draft model for KAIZEN x Cluster approach combining the lessons from this program and their experiences with the target clusters. On 16th December, all participants from both groups gathered, and the first groups presented the drafted model to the second group's high-ranking government officials.
Early 2021, MIT and JICA are planning several events (i.e. Tanzania KAIZEN Award 2021, Tanzania KAIZEN Day, Trainings for KAIZEN Trainers, etc.) to promote nationwide KAIZEN activities further. JICA will continue supporting KAIZEN in Tanzania through its technical cooperation and the provision of necessary funding, in order to achieve our goals for Tanzanian industrialization together.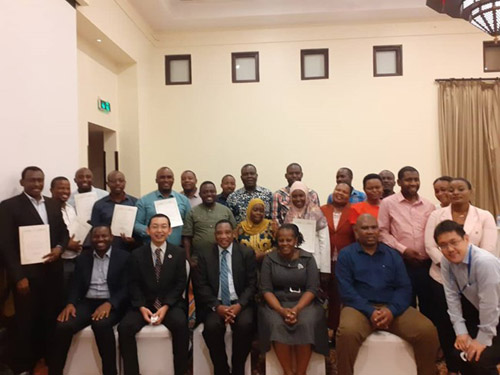 Online KAIZEN Training Participants in Dar es Salaam Serena Hotel
For further information, please contact:
JICA Tanzania Office, P.O. Box 9450, Dar es Salaam,
Tel: 022-211327/30 Fax: 022-2112976
Mr. Kenji Fukuda Fukuda.Kenji2@jica.go.jp
Ms. Mariam El Maamry Maamry-Mariam@jica.go.jp
About "KAIZEN"
"Kaizen" is originally a Japanese word meaning "improvement". It is a management philosophy and know-how for continuous quality and productivity improvement of concerned organizations. It is also a human-oriented approach, which fosters teamwork, mindset change, self-reliance and creativity in the concerned enterprises. This approach has been very instrumental in promoting industrialization in Japan and elsewhere in the world.
About JICA (Japan International Cooperation Agency)
An incorporated administrative agency in charge of administering Japan's ODA (Official Development Assistance). It is one of the world's largest bilateral aid agency supporting socioeconomic development in developing countries in different regions of the world. In Tanzania, JICA has been a long time partner of Tanzania for more than 50 years in many sectors since 1962.