From 11 to 29 January 2021, the President's Office - Regional Administration and Local Government (PORALG), in collaboration with the Japan International Cooperation Agency (JICA), will organize "Directive Meetings on the improved O&OD Guidelines and Manuals" at the Julius Nyerere International Convention Center in Dar es Salaam. Approximately 400 participants are expected to attend during these periods from Regional Administrative Secretariat offices and Local Government Authorities (i.e. Geita, Iringa, Kagera, Katavi, Kigoma, Lindi, Mara, Mbeya, Mtwara, Mwanza, Njombe, Rukwa, Ruvuma, Singida, Songwe, and Tabora).
PORALG and JICA have been implementing a technical cooperation project called the "Project on Strengthening Participatory Planning and Community Development Cycle for Good Local Governance Phase 2 (O&OD2 Project)" since 2014. The Project has implemented a concept of "Improved O&OD", which is a mechanism of identifying and supporting existing community initiatives but also realizing collaborative relationship between Local Government Authorities (LGAs) and community. The central government recognizes the importance of community initiatives to overcome the shortfalls in local service delivery. LGAs encourage and support community initiatives through supporting mechanisms of Improved O&OD.
The O&OD2 project is in the final stage toward its successful completion in March 2021, and these Directive Meetings are the essential part for the improved O&OD guidelines and Manuals to be utilized sustainably for the coming decades.
For further information please contact:
JICA Tanzania Office, P.O. Box 9450, Dar es Salaam,
Tel: 022-211327/30 Fax: 022-2112976
Ms. AOKI Yu Aoki.Yu@jica.go.jp
Ms. MTAMBALIKE Mbonisewa Mtambalike-Mbonisewa@jica.go.jp
What is "Improved O&OD"?
For more than 10 years, JICA has been closely cooperating with PORALG, trying to develop a dynamic and sustainable style of local development and service delivery through an innovative local government administration with "Government-Community Collaboration". This methodology is called the "Improved O&OD" .
"O&OD" is an abbreviation of "Opportunities and Obstacles to Development" and this idea was originally established by PORALG in 2001 to promote participatory local development planning.
Since 2009, PORALG and JICA have been implementing the cooperation project to improve this "O&OD" mechanism to more effectively nurture "Self-Help Efforts" of the communities and deepen collaborative relationship between Local Government and communities. This so-called "Improved O&OD" concept is based on the great unique advantage of the Country inherited from the founder of the nation, the late Mwalimu Julius K. Nyerere.
About JICA (Japan International Cooperation Agency)
An incorporated administrative agency in charge of administering Japan's ODA (Official Development Assistance). It is one of the world's largest bilateral aid agency supporting socioeconomic development in developing countries in different regions of the world. In Tanzania, JICA has been a long time partner of Tanzania for more than 50 years in many sectors since 1962.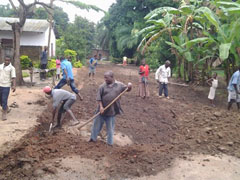 Villagers in Mang'ula B Village, Kilombero District, Morogoro Region, constructed 14 km community road through their self-help efforts facilitated by the improved O&OD methodology.