Measurement of data can help farmers better manage their operations. The more information they have the more they can make decisions that are tailored to their farms' specific needs. Needless to say, policy makers and administrators should also bank on reliable data to plan and implement their activities to better address such needs.
Currently, the Agricultural Routine Data System (ARDS) is officially recognized as a government formal data collection system for the agricultural sector. This system was improved by a series of projects implemented by the Ministry of Agriculture (MoA) and other relevant Ministries in collaboration with the Japan International Cooperation Agency (JICA).
ARDS continues to be considered as an important data collection vehicle in the Agricultural Sector Development Program (ASDP & ASDP2) and in the Monitoring and Evaluation (M&E) Framework at both central and local levels.
In order to satisfy a wide range of data requirements of various stakeholders, the MoA has compiled a "Basic Data Booklet" which publicizes national, regional and districts' data on the agricultural sector. The publication contains basic information which can provide a quick picture of the sector, as it covers all regions and districts in Tanzania Mainland. The present version of the Booklet is a continuation of a series of the Basic Data Booklets that the MoA has been publishing over a number of years, but this one has been greatly improved in terms of quality and efficiency with the help of ARDS.
Data collection and analysis for the agriculture sector has been a major challenge in Tanzania. This is partly because the reporting system has not functioned sufficiently well in collecting reliable data on a regular basis. Hence, the central government had difficulties in assessing the actual situation of the sector, especially when it wanted to refer to disaggregated data. However, through the aforesaid projects, the reporting system has been improved largely and has been utilized in different levels from the districts to the central level.
Data in this Booklet includes agriculture demographics, crop production, agricultural extension services, mechanization, cooperatives and agricultural inputs, which is composed of fertilizer and improved seed. Some of these data were obtained from ARDS and others from various reports in the MoA as well as from the National Bureau of Statistics (NBS). Once these time-series data are disaggregated down to either region or district levels, such data will enable users to lighten up the agricultural development potential of each administrative level.
Now the Agricultural Basic Data Booklet is available online in the MoA website. https://www.kilimo.go.tz/index.php/en/resources/view/basic-data-booklet-september-2020 (external link)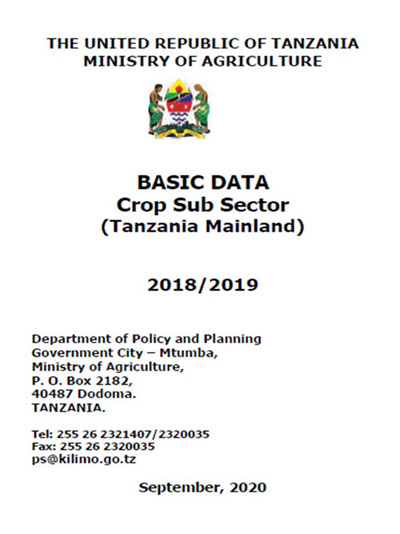 Cover Page of the "Basic Data Booklet" published by the MoA utilizing data mostly compiled through ARDS.
For further information, please contact:
JICA Tanzania Office, P.O. Box 9450, Dar es Salaam,
Tel: 022-211327/30 Fax: 022-2112976
Mr. ASAMI Tatsuya Asami.Tatsuya@jica.go.jp
Ms. Veronica Balua vbalua@gmail.com, baluaveronica.tz@jica.go.jp
About JICA (Japan International Cooperation Agency)
A Japanese incorporated administrative agency, in charge of administering Japan's ODA (Official Development Assistance). It is one of the world's largest bilateral aid agency supporting socio-economic development in developing countries in different regions of the world.
In Tanzania, JICA has been a long development partner for more than 50 years in many sectors since 1962.