The JICA Volunteer program, commonly referred to as the JOCV, started its operations in Tanzania in 1965 and by February 2021, more than 1,600 Japanese volunteers had been dispatched to work in various sectors and areas of Tanzania. The program is supported by the Japanese Government and is aimed at assisting developing countries to enhance their social and economic development with emphasis on self-reliance for sustainable change. The volunteers are mainly dispatched to work indifferent professional fields such as:- education, health, industry, vocational training, local government and sports (karate, judo and baseball).
The history of baseball in Tanzania began in 2012 when a JICA Tanzania staff who had vast and exceptional knowledge and skills in the sport introduced it to the country. He also had the eagerness and enthusiasm to disseminate the sport to Tanzania having previously done so in Ghana.
As a start he firstly introduced the sport to the Ministry responsible for sports namely the Ministry of Information, Youth, Culture and Sports and thereafter to the Ministry of Education targeting Secondary Schools students. Based on this preliminary collaboration a number of JICA volunteers were dispatched to the country to introduce the sport to various parts of the country.
Moreover owing to the positive response from various stakeholders, JICA dispatched to Tanzania a Senior Japanese Volunteer Baseball Instructor in 2017 to the Tanzania Baseball Softball Association (TABSA) which is affiliated to National Sports Council (NSC). From those humble beginnings, the sport gradually grew and was disseminated to many people in the country who received it positively. Based on this positive response several competitions were conducted including the Annual Baseball tournament (TANZANIA KOSHIEN) where several schools participated. The tournaments were held at Dar es salaam's Azania Secondary School, baseball ground which was constructed through the support of the Government of Japan. Such events were supported by the Ministry of Information, Embassy of Japan, a Japanese Non-government Organization and JICA.
Considering that baseball is a new sport in Tanzania, its further development faces a number of challenges including the lack of the necessary sports equipment for the same. Based on this reality some Japanese nationals have come forward to donate, on several occasions, some equipment through JICA Volunteers, through a world program called: "Smile for All in the world".
"Smile for All in the World" Program provide items requested by related groups in assigned countries or locations of JICA volunteers. It is special because it enables Japanese citizens to participate closely in international cooperation. JICA and volunteers serve as a bridge that connects Tanzania people with Japanese citizens.
This year the Japanese people have also decided to donate the below mentioned equipment to TABSA as their contribution towards the promotion of baseball in Tanzania. The handing over ceremony of such equipment will be held on March 11, 2021 and details of the same are given below:
Date: March 11, 2021
Time: 12:00 - 13:00 hours.
Venue: Azania Secondary School, Dar es Salaam (Baseball Ground)
| Donated Items: | | Quantity |
| --- | --- | --- |
| 1) Baseball Gloves | - | 38 pcs |
| 2) Baseball Balls | - | 284 pcs |
| 3) Wooded Bats | - | 19 sets |
| 4) Baseball Shoes | - | 3 pairs |
| 5) Catcher Protector | - | 2 sets |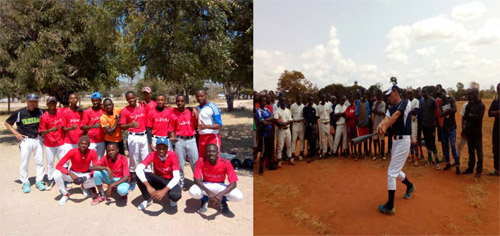 Mr. Jiro IWASAKI, JICA Senior Volunteer and Baseball Instructor/Coach with Tanzanian players
For further information, please contact:
JICA Tanzania Office, P.O. Box 9450, Dar es Salaam,
Tel: 022-211327/30 Fax: 022-2112976
Mr. Makoto Tsujimoto: Tsujimoto.Makoto@jica.go.jp
Ms. Catherine Shirima: ShirimaCatherine.Tz@jica.go.jp
About JICA (Japan International Cooperation Agency)
An incorporated administrative agency in charge of administering Japan's ODA (Official Development Assistance). It is one of the world's largest bilateral aid agency supporting socio-economic development in developing countries and in different regions of the world.
In Tanzania, JICA has been a long partner of Tanzania for more than 50 years in many sectors since 1962.