Japan International Cooperation Agency (JICA), in collaboration with the Japanese private sector and Tanzanian "JICA alumni" (i.e. ex-participants of JICA training programs), organized an online networking event on March 4, 2021. The main objective of the event was to link potential investors in Japan with investment opportunities available here in Tanzania. This was made possible by linking these Japanese companies with Tanzanian JICA alumni via online.
Tanzania is one of the potential countries in East Africa for Japanese companies to start their businesses. However, most of these potential investers lack, not only accurate information on Tanzania, but also good network with Tanzanian people or companies. These are among the many reasons which may explain why Tanzania is getting a very limited number of investors from Japan. At the moment, there are less than 40 Japanese companies operating in Tanzania. Those operating in neighboring Kenya are more than twice this number.
Based on the above background, JICA Tanzania office decided to step-in by trying to fill in the information gap by connecting thousands of Tanzanian alumni of JICA training programs with potential Japanese investors. Some of these alumni are leaders in various organizations, both public and private. Some are even starting their own businesses after coming back to Tanzania based on their skills and knowledge acquired in Japan.
During the networking event, two case studies were introduced as examples of collaboration between Japanese companies and Tanzanian JICA alumni. The first case was that of SATAKE Corporation, a leading manufacturer of grain processing machines in Japan, and Mr. Deogratius Kapalata, a JICA alumnus studied his masters at the University of Tokyo. Mr. Eiichiro Nagafuchi from SATAKE and Mr. Kapalata shared the various available technologies on milling machines including optical sorting machine, and how they work together in their feasibility study.
In another case, Mr. Hiroshi Matsumoto from Yamaha Motor Co., Ltd. shared his ideas for collaboration with Tanzanian JICA training participants, namely offering internship opportunities for them at Japanese companies, and then working as a team to expand the business in Tanzania. On his part Mr. Haji Rehani, a JICA alumnus studied his masters at the Ritsumeikan Asia Pacific University in Japan, also presented how he works as a New Business Development Officer employed by Yamaha Motors Co., Ltd.
In addition, the Tanzania Agricultural Development Bank (TADB) also made a presentation in which they introduced their services and their contribution to the development of the agricultural sector in the country.
JICA believes that collaboration between these alumni and Japanese investors will help to attract more Japanese companies to come and invest in Tanzania, resulting into mutual benefits of the two countries.
<JICA Training program>
JICA has been providing training program mainly in Japan and in third countries to Tanzania since 1962. To date, it has trained over 4,500 trainees from Tanzania. Ex-participants created an association called JICA Alumni Association of Tanzania (JATA) to share their current activities and keep the sustainable relationship.
<JICA partnershiop program with private sector>
JICA now enhances the partnership with private sector by co-creation to make and expand social impacts in partner countries. It provides the programs to support Japanese companies for a survey to create a business model in order to address challenges in partner countries including Tanzania.
For more information, please contact:
Mr. John Lihawa, JICA Tanzania Office, Email:LihawaJohn.TZ@jica.go.jp
Tel: +255-22-2113727-30/ +255-754 787666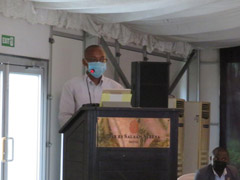 Presentation by Mr. Henry Miku, Country Director of KAKEHASHI which is a part of JICA Alumni association.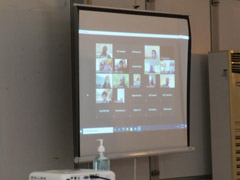 Presenters and participants via online.