On 20 March 2021, the President's Office, Regional Administration and Local Government (PO-RALG), in collaboration with the Japan International Cooperation Agency (JICA), completed a technical cooperation project on "Strengthening Participatory Planning and Community Development Cycle for Good Local Governance - Phase II", in short, "O&OD2" Project.
What is the "O&OD"? The "O&OD" is a short form for "Opportunities and Obstacles to Development". It is an idea that originated from PO-RALG in 2001 to promote participatory local development planning. The aim of implementing this "O&OD2" Project was to improve this "O&OD" mechanism to more effectively nurture communities' "Self-Help Efforts" and thereby deepen collaborative relationship between Local Governments and their communities.
This Project has seen a number of milestones such as the documentation and institutionalization of "Improved O&OD" through the successful launching of the "Improved O&OD Guideline" and its subsequent manuals. In addition to publication of these official documents, PO-RALG made tremendous efforts to mainstream the O&OD concept through its Directive Meetings held for all the 26 Regions and the Local Government Authorities (LGAs).
For many years, the O&OD2 Project has evolved as a concept that has made significant efforts particularly to empower LGAs to develop a dynamic and sustainable style of local development and service delivery through an innovative local government administration with "Government-Community Collaboration".
After the completion of the Project, JICA is looking forward to seeing the concept of "Improved O&OD" as not only a mechanism of identifying and supporting existing community initiatives but also realizing collaborative relationship between LGAs and communities. PO-RALG will keep up its efforts to secure the budget for O&OD and allocate it to LGAs as planned, continue to train Ward Facilitators (WF) and Senior Ward Facilitators (SWF) together with PO-RALG's Local Government Training Institution (LGTI), and conduct Monitoring & Evaluation (M&E) to continuously improving the O&OD system.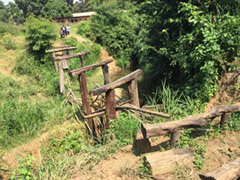 Before
No Bridge Crossing at Mshikamano Village in Ifakara Town Council, Morogoro Region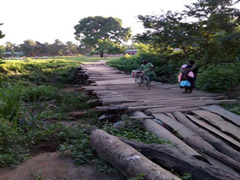 After
Collaborative efforts of the LGA and its communnity led construction of a community bridge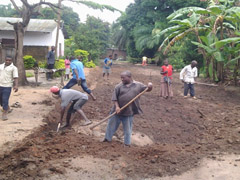 Villagers in Mang'ula B Village, Kilombero District, Morogoro Region, constructed 14 km community road through their self-help efforts facilitated by the improved O&OD methodology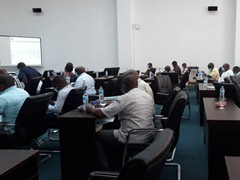 Final Day of CTF (Councilor Task-Force) Training during the 4 Day Directive Meeting
* The CTF is comprised of Council Directors, District Community Development Officer, and District Planning Officer/ District Economist.
About JICA (Japan International Cooperation Agency)
An incorporated administrative agency in charge of administering Japan's ODA (Official Development Assistance). It is one of the world's largest bilateral aid agency supporting socioeconomic development in developing countries in different regions of the world. In Tanzania, JICA has been a long time partner of Tanzania for more than 50 years in many sectors since 1962.