Japan International Cooperation Agency (JICA) co-organized an event called "East Africa Rice Conference (EARC) 2021" held from 18th to 20th May 2021, in collaboration with the Africa Rice Center, the Coalition for African Rice Development (CARD), International Rice Research Institute (IRRI), Agricultural Policy Research in Africa (APRA), and other regional and/or country-specific initiatives.
The objectives of the EARC is; (1) to facilitate knowledge exchange on rice sector research and development at national and regional levels; (2) to take stock of public, private, and donor-supported initiatives to inform policy-making and implementation; and (3) to boost multi-stakeholder collaboration toward achieving national and regional rice self-sufficiency, increasing food and nutrition security and alleviating poverty through inclusive and sustainable production and commercialization.
In the Day 1, the country-level workshop was officiated by the Engineer Geofrey Maregesi, on behalf of the Deputy Permanent Secretary of the Ministry of Agriculture (MoA), and 40 participants from MoA, IRRI, Tanzania Agriculture Research Institute (TARI), Tanzania Agriculture Development Bank (TADB), Sokoine University of Agriculture (SUA), farmers representatives, and other partner organizations attended the workshop. The participants discussed in technical parallel sessions such as; Tanzania Rice Strategy; National Rice Research and Development; Rice-based Livelihoods; Gender and Youth Integration; Inclusive Markets and Value Chains; Inclusive Finance and Investment; and Integrating Rice Sector Development in a Changing Climate.
After the parallel sessions, 3 important points were raised to increase the productivity as well as securing the market. Firstly, capacity building of the farmers on good agronomic practices, i.e. land preparation; use of good seeds; fertilizers and pesticides; utilization of proper and efficient agricultural machinery, all aimed at adding cost efficiency along the rice value chain as well as reducing post-harvest loss. It is said that post-harvest loss in Tanzania is huge amounts. Secondly, proper and efficient coordination shall be needed between the private sector and the government who inspects them. This is crucial in order to ensure country imports quality and proper machines which will contribute to the efficiency and increase productivity to enable Tanzanian rice to be competitive in the regional market. Thirdly, national platform to engage in discussions and coordination of all issues concerning the rice subsector in Tanzania is required. For instance, the big challenge in Tanzania is that the rice is cultivated without distinction of the variety, and mixed variety of rice is sold in the market. To compete in the regional market and export the rice, it is important and necessary to have a very specific rice variety, which can be traced, branded and labeled as the "Tanzanian rice".
JICA supported the preparation and formulation of Tanzania's National Rice Development Strategy (NRDS) phase 1 and 2 in collaboration with the CARD initiative. Tanzania increased its rice production from 0.9 million Metric Ton (MT) in 2008 to 2.2 million MT in 2018, and changed from net importer to net exporter of rice through the implementation of the NRDS phase 1. To achieve the goal of NRDS phase 2 which targeted to further double production from 2.2 million MT to 4.4 million MT by 2030, the above mentioned 3 points need to be solved and well planned by the NRDS Task Force group.
In the Day 2 and Day 3 of EARC were the regional-level workshops whereby all member countries joined virtually to share the observation from each member country (i.e. Tanzania, Burundi, Ethiopia, Kenya, Rwanda, and Uganda) via online, and learn from scientists and experts about different topics that support sustainable agriculture and improve farmers' productivity in the region. It was important to discuss and share experiences among countries in relation to the existing challenges and emerging opportunities to accelerate and sustain rice self-sufficiency in Eastern Africa.
Through the EARC, JICA expects that all rice-related key players understand the situation and available opportunities along the rice value chain with a view to bring joint efforts of stakeholders including the government, so that everyone take roles to make sure the rice sub-sector is effective and inclusive to moving forward.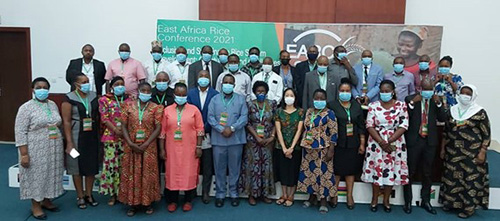 Participants of EARC 2021 at Julius Nyerere International Conference Center, Dar Es Salaam
For more information, please contact:
JICA Tanzania Office
P.O. Box 9450, Dar es Salaam
Tel: 022-2113727/30 Fax: 022-2112976
Website: JICA Tanzania Office
Officers-in-charge:
Ms. Ridda A. Dally / Andrew-Ridda@jica.go.jp
Ms. Yukari Inagaki / Inagaki.Yukari2@jica.go.jp