In the spirit of "Leading the world with Trust", Japan International Cooperation Agency (JICA), in collaboration with the Government of Tanzania (GoT) through the President's Office - Regional Administration and Local Government (PO-RALG) throughout the years, has conducted various trainings in local governance sector. JICA's training programs are known as the "Knowledge Co-Creation Programs" (KCCP).
Traditionally, these trainings conducted annually to bolster relations between the two countries as well as enhance Technical Cooperation Projects and develop skills of the Tanzanian Officials.
However, the global outbreak of COVID-19 have forced various difficulties in travelling abroad, and thus prompted JICA to devise an innovative way to ensure that training programs continued; the development of the Online KCCP.
For the financial year 2020/21, the online training opportunities in the Local Governance Sector were five (5), conducted as per below:
LOCAL GOVERNANCE
ENHANCEMENT OF LOCAL GOVERNMENT ADMINISTRATION AND PUBLIC SERVICES THROUGH PARTICIPATORY LOCAL DEVELOPMENT
COMMUNITY BASED DEVELOPMENT WITH LOCAL RESIDENTS AS MAIN ACTORS
PARTICIPATORY LOCAL SOCIAL DEVELOPMENT(PLSD)
CAPACITY BUILDING OF LOCAL GOVERNMENTS FOR DEVELOPMENT WITH COMMUNITY PARTICIPATION(B)
These Online KCCPs have had a positive impact for the Local Government Officers at the level of District to Ward. A number of worth noting experiences are as follows:
Innovation in the use of online platforms for training
Introduction of using different meeting and data sharing platforms such as Zoom, Microsoft Teams, Google Workspace, WhatsApp, etc.
Conducting activities via online with real-time participation.
General content of the training was innovative in terms of methodology of facilitation, partnership building, and relationship building.
Participants were able to experience Japanese communities' collaborative efforts in resource utilization, development, and partnership between community-government relations.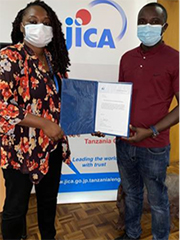 Online Training Participant (Mr. Fred LOTTI) receiving the Certificate for Participation in the Training for "Capacity Building of Local Governments for Development with Community Participation". The Participant is from the Department of Community Development at Itigi Distict Council, Singida Region.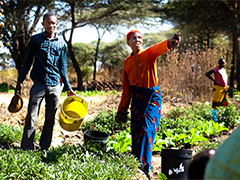 Integration process at Ward Level assisted by a Ward Facilitator in the Singida District Council. He is the one among the beneficiaries of the previous KCCP in "Community Based Development with Local Residents as Main Actors"
What is "KNOWLEDGE CO-CREATION PROGRAM"?
JICA offers a variety of training programs in Japan through the "Knowledge Co-Creation Program" (KCCP) which is a form of technical cooperation. KCCP is composed of "Group and Region Focus Program", "Country Focus Program" and "Young Leaders Program". Annually JICA has offered to Tanzania more than 60 short courses.
Ex-participants of JICA training programs include several Ministers, Permanent Secretaries (PS), Regional Administrative Secretaries (RAS), District Executive Directors (DED), etc. JICA ex-participants become members of JATA (JICA Alumni Association of Tanzania), and participate in the workshops, seminars, public relations activities; site visits to JICA supported projects, etc. within Tanzania.
About JICA (Japan International Cooperation Agency)
An incorporated administrative agency in charge of administering Japan's ODA (Official Development Assistance). It is one of the world's largest bilateral aid agency supporting socio-economic development in developing countries in different regions of the world. In Tanzania, JICA has been a long time partner of Tanzania for more than 50 years in many sectors since 1962.