The Initiative for Food and Nutrition Security in Africa (IFNA) is a collaborative initiative jointly introduced by the African Union Development Agency (AUDA) and the Japan International Cooperation Agency (JICA).
All member states of IFNA, incl. Tanzania, holds a three-day IFNA partners' meeting from 8th to 10th June 2021, convened as a hybrid between physical gathering and virtual (online) engagements. In Tanzania, the participants gather at Protea Courtyard Hotel in Dar es Salaam.
The overall objectives of the meeting are to share progress, good practices, and lessons learnt in order to promote nutrition improvement in Africa towards the achievement of nutrition indicators, which were set by the "Malabo Declaration" in 2014 at the occasion of the AU Assembly. Additionally, it is expected to raise awareness, amongst all member states, on the upcoming "Tokyo Nutrition for Growth (N4G) Summit" which is scheduled to be held towards the end of 2021.
In consideration of the health risks and travel restrictions associated with COVID-19, the meeting is planned in a "hybrid" manner. A few participants physically gather at the designated venue in each member state, and others are attending the meeting virtually via online.
Representatives of more than 25 countries, including Tanzania, Burkina Faso, Ethiopia, Ghana, Kenya, Madagascar, Malawi, Mozambique, Nigeria, Senegal, and Sudan, will take part in the meeting.
In Tanzania, participants are drawn from those Ministries/Agencies which are engaged in the nutrition improvement, i.e. the Prime Minister's Office (PMO), Ministry of Agriculture (MoA), Ministry of Health (MoH), and Tanzania Food and Nutrition Centre (TFNC).
We believe that the participants will learn good practices of multi-sectoral nutrition interventions shared by IFNA member states and other actors, as well as have a clear understanding on IFNA's approaches and directions. Moreover, ideas on Africa's nutrition agenda as inputs to the N4G Summit will be shared and exchanged through this meeting, it is expected that even more African Governments will express their interests in collaborating with IFNA after understanding its strategic directions and opportunities for achievement of nutrition outcomes.
Based on the "IFNA Yokohama Declaration 2019", adopted at the Tokyo International Conference on African Development (TICAD) 7 in Japan, IFNA has started to expand its activities to all African countries in partnership with the Regional Economic Communities (RECs). Since JICA has also started expanding its support to nutrition improvement in Tanzania, we believe that promoting IFNA and sharing good practices among the member states will make such support more effective and beneficial to the country.
About IFNA (The Initiative for Food and Nutrition Security in Africa)
IFNA was launched in 2016 at the TICAD6 in Nairobi, Kenya, under the auspices of the African Union Development Agency - New Partnership for Africa's Development (AUDA-NEPAD) and JICA who were selected as co-chairs of the Initiative. It was tasked with the responsibility of eradicating food and nutrition insecurity in Africa.
In addition to AUDA-NEPAD and JICA, the initiative is supported by other Steering Committee member organizations including FAO, WFP, UNICEF, WHO, AfDB, IFAD, World Bank, JIRCAS, etc.
About JICA (Japan International Cooperation Agency)
A Japanese incorporated administrative agency in charge of administering Japan's ODA (Official Development Assistance). It is one of the world's largest bilateral aid agency supporting socio-economic development in developing countries in different regions of the world. In Tanzania, JICA has been a long development partner for more than 50 years in many sectors since 1962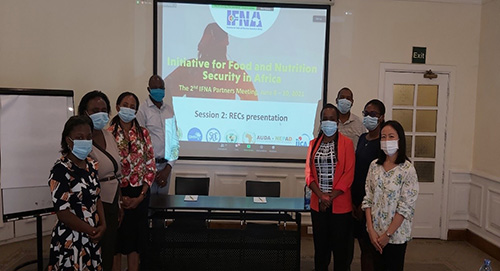 Participant at the IFNA meeting, which started on 8thJune.2021 at Protea Hotel Dar es Salaam Tanzania. The meeting is Co-organized by JICA.
For more Information, please contact:
JICA Tanzania Office, P.O. Box 9450, Dar es Salaam,
Tel: 022-2113727/30 Fax: 022-2112976
Website: JICA Tanzania Office
Ms. Balua Veronica / baluaveronica.tz@jica.go.jp
Ms. Yukari Inagaki / Inagaki.Yukari2@jica.go.jp