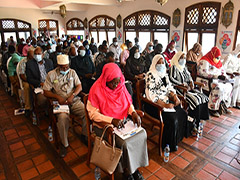 During the seminar
A Seminar which brought together relevant Ministries, Ministerial Departments and Agencies, Manufacturers, Zanzibar National Chamber of Commerce and business communities was held at Zanzibar's Serena Hotel on June 30, 2021 through a project called "The Project on Strengthening Manufacturing Enterprises through Quality and Productivity Improvement (KAIZEN)" - a project which has jointly been implemented by the Ministry of Industry and Trade (MIT) in collaboration with the Japan International Cooperation Agency (JICA) since 2013.
This was the first KAIZEN seminar in Zanzibar under this project. Dr. Abdulla R. Abdulla who is a Director of the Ministry of Trade and Industrial Development visited JICA Tanzania Office in March 2020 in order to discuss about KAIZEN implementation in Zanzibar. Then, he sent a request to MIT about the implementation. The seminar was conducted by the Tanzania KAIZEN Unit (TKU) under MIT and officiated by Principal Secretary of Ministry of Trade and Industrial Development of Zanzibar Dr Islam Seif Salum. About 100 participants joined. The purpose was creating awareness on KAIZEN activities and promote participation of enterprises including top-level leaders, business service providers, and policy makers in KAIZEN practices. The topics presented and discussed in the workshop included basic KAIZEN tools and how it works in promoting 5S, how companies can receive benefits from KAIZEN.
JICA will continue to support the implementation of KAIZEN in Tanzania through technical cooperation, in order to achieve our shared goal of Tanzania's Industrialization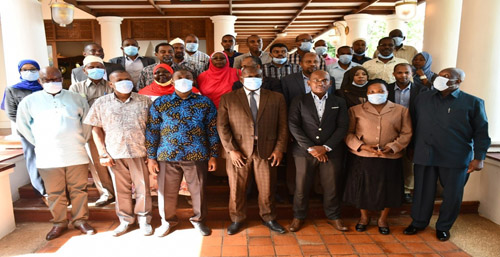 Group photo of participants
About KAIZEN
"KAIZEN" is originally a Japanese word meaning "Continuous Improvement" and a management philosophy and know-how for continuous quality and productivity improvement of concerned organizations. It is also a human-oriented approach fostering teamwork, mindset change, self-reliance, creativity and ingenuity to come up with ideas for solutions to the problems we face in Tanzania.
About JICA (Japan International Cooperation Agency)
An incorporated administrative agency in charge of administering Japan's ODA (Official Development Assistance), is one of the world's largest bilateral aid agency supporting socio-economic development in developing countries in different regions of the world.
In Tanzania, JICA has been a long partner of Tanzania for more than 50 years in many sectors since 1962.
For further information, please contact:
JICA Tanzania Office, P.O. Box 9450, Dar es Salaam,
Tel: 022-211327/30 Fax: 022-2112976
Mr. Fukuda Kenji fukuda.kenji2@jica.go.jp
Ms. Mariam El Maamry Maamry-Mariam@jica.go.jp