Three former Japan Overseas Cooperation Volunteers (JOCV), who were assigned in Tanzania have formed a company, WATATU Ltd., which is aimed at improving the productivity of individual farmers in the country. Established in December 2020, the company has already invested Tshs 40 million and works with local farmers in Songea, Kilombero and Njombe as business partners through the provision of agricultural equipment, and engaging in capacity building, market research for farmers' produce. The company aims at raising the productivity of the farmers' produce and thereafter share the profits with each other in a win-win relationship. In the second year of their business, the three ex-JOCVs are planning to roll out their activities to other regions.
Asked why they were motivated to return to Tanzania, during the interview, the volunteers singled out Tanzania's hospitality as the key reason for their decision to return. They claimed that the hospitality they received from Tanzanians was exceptionally good and beyond description. So based on that background they thought they had a debt to pay to the Tanzanian people, hence their decision to form a company to partner with Tanzanians.
Mr. OKAMOTO, the Chief Executive Officer of WATATU Ltd., said thus: "Tanzania is endowed with fertile land and favourable climate; we shall utilize these advantages to uplift the livelihoods of the Tanzanian farmers".
Currently 15 farmers have benefited from the partnership with the company and some had this to say: "I appreciate the support because I cultivated 6 ha and I am expecting good harvest unlike in the past where I managed only 3 ha and got poor harvest". Another beneficiary said: "I have gained farming knowledge and marketing skills, so next season I am planning to cultivate more hectares". Yet others said thus: "I couldn't get a bank loan, but now I can get and farm well", "When I need materials, I can receive them" etc.
Based on the above efforts of the ex-volunteers coupled with their commitment and experiences with Tanzanians, WATATU Company is assigned in a Partnership Promotion Survey for Beekeeping Business in Tanzania, which Nisshin Honey Co., Ltd. is conducting, as a subcontracting company to assist its survey.
About Japan Overseas Cooperation Volunteers (JOCV)
JOCV is the program under Japan International Cooperation Agency (JICA) Technical Cooperation scheme. JOCV started its operations in Tanzania in 1965 and by March 2021, more than 1,700 Japanese volunteers had been dispatched to work in various sectors and areas of Tanzania. The program aims at assisting developing countries to enhance social and economic development with emphasis on self-reliance for sustainable change. The volunteers are mainly dispatched to work in different professional fields such as agriculture, community development, education, health, industry, vocational training and sports (karate, judo and baseball) etc.
About WATATU Ltd.
The Company was formed by 3 ex-volunteers, Ryuta Okamoto, Yuki Mito, Sho Izaki, and draws its name from its Swahili acronym (Watatu) meaning three.
Mr.Ryuta OKAMOTO, WATATU Chief Executive Officer, worked as a Community Development Volunteer with Songea District Council, Ruvuma. Mr. Yuki MITO, WATATU Director, worked as Community Development Volunteer at Kilombero District Council,Morogoro and Mr. Sho IZAKI, WATATU Director, worked as Physical Education volunteer at Songea Boys Secondary School in Ruvuma.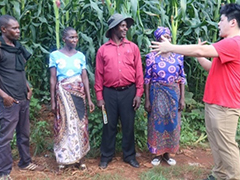 WATATU CEO giving advice to farmers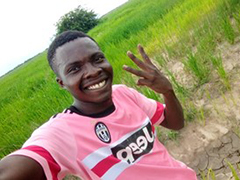 Rice farmers enjoying farming
For further information, please contact: JICA Tanzania Office, P.O. Box 9450,
Dar es Salaam, Tel: 022-211327/30
Ms. Noriko Ogasa: Ogasa.Noriko@jica.go.jp
Ms. Catherine Shirima: ShirimaCatherine.Tz@jica.go.jp