The JICA Volunteer program, commonly referred to as the JOCV, started its operations in Tanzania in 1965 and by February 2021, more than 1,700 Japanese volunteers had been dispatched to work in various sectors and areas of Tanzania.
The program is being supported by the Japanese Government and is aimed at assisting developing countries to enhance their social and economic development with emphasis on self-reliance for sustainable change. The volunteers are mainly dispatched to work in different professional fields such as education, health, industry, vocational training, local government and sports (judo, baseball etc).
JICA dispatched a senior Japanese Baseball Instructor volunteer and University of Teacher Education Fukuoka student coaches to the Tanzania Baseball and Softball Association (TaBSA), secondary and primary schools. With those humble cooperation, the sport gradually grew and attracted many people particularly secondary and primary school students in the entire country. Based on this positive response several competitions were conducted, including the Annual Baseball Tournament (TANZANIA KOSHIEN), where several schools participated.
The latest of such tournaments is this years' U15 FUKUOKA CUP which is held from September 6 - 11, 2021 at Azania Secondary School's KOSHIEN Baseball Ground - a baseball ground which was constructed through the support of the Government of Japan. The name of tournament, FUKUOKA CUP, was named after contribution and cooperation from the student coaches from University of Teacher Education Fukuoka. " FUKUOKA " is the name of prefecture which is located Southwest part of Japan.
To make this years' event successful, the following ex-JICA volunteers made their generous contributions (in terms of winners' prize cups, refreshments etc) towards the event:
Mr. Hiroki IWASAKI, Ex-Senior Volunteer, TaBSA (National Sports Council)
Ms. Aya TANAHARA, Ex-Volunteer, Juhudi Secondary School,
Mr. Yuki KOGA, Ex- Volunteer, Temeke Municipal Council,
The closing ceremony of the Tournament will be officiated by Mr. Hideki WATANABE, Senior Representative of JICA Tanzania Office, on September 11, 2021 and details of the same are as follows:
Date:
September 11, 2021
Time:
8:30-9:30 Semi Final (Third position award winning)
10:00-11:00 Final (Winner position and Second position)
11:15-12:00 Closing and Awards ceremonies
Venue:
Azania Secondary School, Dar es Salaam (Baseball Ground)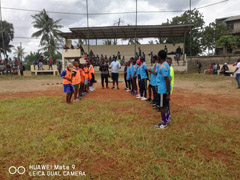 U15 Baseball FUKUOKA CUP participants, 6 September. 2021
For further information, please contact:
JICA Tanzania Office, P.O. Box 9450, Dar es Salaam,
Tel: 022-211327/30 Fax: 022-2112976
Ms. Reiko Abo, jicatz-vcs@jica.go.jp.
Ms. Catherine Shirima, ShirimaCatherine.Tz@jica.go.jp
About JICA (Japan International Cooperation Agency)
An incorporated administrative agency in charge of administering Japan's ODA (Official Development Assistance). It is one of the world's largest bilateral aid agency supporting socio-economic development in developing countries and in different regions of the world.
In Tanzania, JICA has been a long partner of Tanzania for more than 50 years in many sectors since 1962.