A former JICA volunteer, Mr. MUROYA Koji, who was previously assigned at Vocational Education and Training Authority (VETA) in Mwanza from 2013 to 2015 as an auto - mechanical technician, has come back to Tanzania and now works with Saint Parts Co., Ltd., Tanzania.
Mr. MUROYA is one of the 143 volunteers who had been dispatched to Tanzania under the Japan Overseas Cooperation Volunteers (JOCV) Program in the area of automotive engineering.
Asked why he was motivated to return to Tanzania, he cited many reasons but singled out a few as follows: the good experiences he got as a JICA volunteer coupled with his understanding of the Tanzania culture and the Swahili language prompted him to come to Tanzania, a country he claimed he loved most. Moreover, he added that compared to Japan, where people are normally very busy and quiet, Tanzanians are very friendly and the way people greeted each other whenever they met impressed him very much.
Explaining the activities of his Company where he is presently working as a Branch Manager he proudly says the company deals with a wide range of activities including the importation of motor vehicles and the supply of genuine new and used Japanese car spare parts, tires, oil etc. He says that the company provides high quality services, which have well been accepted by customers and based on this success; his company is intending to expand its services to reach more customers in Tanzania and to neighboring countries.
On the secrecy of safety driving, he gave this advice to all drivers: "Regular maintenance and replacement of necessary car parts including tires are most important points to consider for safety driving".
In addition, his company joined JICA's survey for fostering car mechanic and maintenance factory network in 2019. The survey aimed at identification of issues in development of the human resources with advanced maintenance techniques and of the certification system of maintenance garages including automotive safety inspection in the country.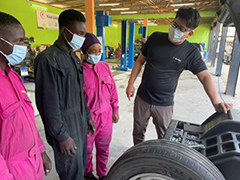 Mr. Muroya at his Garage in DSM
About Japan Overseas Cooperation Volunteers (JOCV)
JOCV is a program under Japan International Cooperation Agency (JICA) Technical Cooperation scheme. JOCV started its operations in Tanzania in 1965 and by March 2020, more than 1,700 Japanese volunteers had been dispatched to work in various sectors and areas of Tanzania. The program aims at assisting developing countries to enhance social and economic development with emphasis on self-reliance for sustainable change in various sectors.
About Saint Parts Co., Ltd.
Established in 2013 in Japan, the company is a car dismantling entity playing a major role in environmental protection. The company established its first overseas branch in Tanzania in 2018 and opened a modern garage for repair and maintenance of Japanese vehicles. Other services include selling of high quality used and new spare parts, Yokohama Tires, Takumi Oil, importation of cars based on client's request, etc. The company strives to continue providing provide good quality services with reasonable cost to its customers in Tanzania and in neighboring countries.
Website: https://japancar.co.tz (external link)
Contact in Tanzania: tanzania@saintparts.co.jp
OFFICE: +255 657 109 001
SDGs Business Model Formulation Survey with the Private Sector for Fostering Car Mechanic and Car Maintenance Factory Network through Car Maintenance in Professional Practice in Tanzania SAINT PARTS Co., Ltd. (Hashima-City, Gifu Pref., Japan)
This is one of the surveys conducted under the JICA program in liaison with private sectors. The survey started in 2019 conducted to build practical systems and infrastructures to implement pilot training programs for car maintenance mechanics at venues provided by VETA through building of a training curriculum and materials by utilizing our garage in Tanzania and Japanese mechanics working in the country. Counterparts are as follows; Vocational Education and Training Authority (VETA), National Institute of Transport (NIT), Arusha Technical College (ATC), Ministry of Works, Transport and Communications (MWTC)
For further information, please contact:
JICA Tanzania Office, P.O. Box 9450,
Dar es Salaam, Tel: 022-211327/30
Ms. Reiko.Abo. jicatz-vcs@jica.go.jp
Ms. Catherine Shirima: ShirimaCatherine.Tz@jica.go.jp