Morogoro. The Government has urged members of the JICA Alumni Association of Tanzania (JATA) to raise awareness and support the petty traders, commonly known as "Machingas", with solar power facilities at their relocated areas in the region in order to extend their working-time.
Speaking during a one-day seminar held by JATA in collaboration with WASSHA Inc., a Japanese-Tanzanian company that provides solar lantern rental and charging service using clean energy in off-grid areas through kiosks (retail stores), Morogoro District Commissioner Albert Msando said most of the market areas where petty traders were relocated lack power facilities, making it difficult to work during night-time.
"It is hard for the petty traders (Machingas) to do their businesses during night-time at their current relocated market areas. I hereby request you JATA members through WASSHA to provide them with the rental solar devices in order to extend their working time during night hours," he said.
In another development, Mr. Msando expressed his gratitude towards Japan International Cooperation Agency (JICA) for establishing various development projects in the region, which benefit low-income residents including small entrepreneurs.
He said the establishment of development projects with direct impacts to low-income communities is in line with the sixth government's plans under the President Samia Suluhu Hassan to improve people's socio-economic services.
JATA members are JICA training programs' ex-participants both from public and from private sectors who studied in Japan as part of the cooperation between the Government of Tanzania and the Government of Japan through JICA.
JATA Chairperson Gregory Mlay said the association implements at least six public relations activities every year in different regions under the close support of JICA.
A member of the association's executive committee Dr. Severine Assenga said that JATA had more than 4,000 members countrywide who in one way or another studied in Japan and other countries under JICA wings.
The association paid a visit at WASSHA business site and held the seminar on 30 October 2021 to learn on how the clean solar energy serves well the low-income earners as a service and business.
The seminar was organized to understand WASSHA's business model and its impacts to the development of people's livelihoods in Tanzania.
WASSHA has been providing solar power services across Tanzanian regions such as Dar es Salaam, Pwani, Morogoro, etc., under a close support from JICA since 2016. It was the first case of JICA's Private Sector Investment Finance (PSIF) project in Sub-Saharan Africa.
JATA members also paid visit to WASSHA agents and consumers around Morogoro Municipality and along Kigurunyembe - Mkuyuni road to witness and talk to the beneficiaries of WASSHA services.
The JATA members observed and understood the business model and the impact of the WASSHA services to surrounding communities and how the enterprise has been realizing its mission "Power to the people.
About JATA (JICA Alumni Association of Tanzania)
JATA is an association that brings together all ex-participants who had opportunities to study in Japan or in other countries under the sponsorship of JICA, which is the implementing agency of Japan's Official Development Assistance (ODA).
For further information about JATA, please go to JICA Tanzania's website below:
About JICA (Japan International Cooperation Agency)
An incorporated administrative agency in charge of administering Japan's ODA (Official Development Assistance). It is one of the world's largest bilateral aid agency supporting socio-economic development in developing countries and in different regions of the world.
In Tanzania, JICA has been a long partner of Tanzania for approx. 60 years in many sectors since 1962.
For further information about JICA, please go to JICA Tanzania's website below: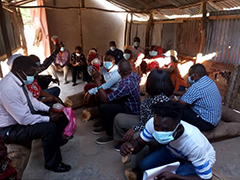 JATA Members holding the rental solar lanterns supplied by WASSHA Inc. during their visit at Mindu WASSHA Kiosk in Mindu village, Morogoro region.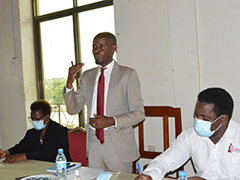 Morogoro District Commissioner Albert Msando speaking to JATA members and WASSHA staff during JATA's one-day seminar at WASSHA site in Morogoro region.
For more information, please contact:
Evona Mathew (Ms.)
JICA Tanzania Office, P.O. Box 9450, Dar es salaam
Tel: 0682 216089: Email: Mathew-Evona@jica.go.jp