"Agriculture is stress-free when seeds, inputs and markets are well assured", growers of sweet potatoes in Morogoro and Dodoma have confessed.
Technology and a business model from Japan have removed the stress, which used to be face conventional growers of sweet potatoes.
"Hustling to get modern seeds and market is no more. Only weather worries me and I am assured of good harvest and selling my sweet potatoes at good price," says Mr Peter Chisina, a grower of sweet potatoes from Gairo, Morogoro, a contract farmer of Matoborwa. Co. Ltd.
Such technology and a business model were introduced to Tanzania by Mr. Tatsuo Hasegawa,a former member of the Japan Overseas Cooperation Volunteers (JOCV) program who established Matoborwa Co. Ltd. in Dodoma in 2014.
With an initial capital of $96,000 (TSh165 million), the company's vision is to create quality and affordable nutritious food for both domestic and international use.
The factory produces dried sweet potatoes snacks, dried fruits and nut bars. Presently the Company employs about 15 Tanzanians most of whom are single mothers. These workers have now adopted the Japanese working spirit. By working at Matoborwa company they can easily afford their basic needs including food and education for their children.
"Agricultural development in Africa has turned to be my lifework," says Mr. Hasegawa, "and my experiences as a JOCV made me choose Tanzania as my investment destination. At a tender age of 24 when I came to Tanzania as a JOCV, I learnt Swahili language and got many Tanzanian friends".
Mr. Hasegawa, who studied at Sokoine University of Agriculture with JICA's scholarship, has chosen a Japanese sweet potato variety called Tamayutaka for Tanzanians. He says the variety is suitable for the Tanzanian environment and does not require fertilizers or pesticides. The variety was registered in Tanzania in 2020 with financial and technical support from JICA.
Mr. Saimon Mlali, a contract farmer from Mpwapwa, Dodoma, said his life changed soon after starting to work with Matoborwa in 2018. Applying a Japanese business model, Matoborwa Co. Ltd. provides seeds and cultivation skills to farmers and buys their products as raw materials to feed the factory - a system that is the most appreciated by farmers because they are assured of a ready market for their produce.
A co-founder of the company, Mr.Crispin Sukwa, a director and a long-term friend of Mr. Hasegawa since 1995, says the factory's capacity is limited to the existing supply of the raw materials and market demands.
"We buy raw materials, according to our production capacity. Plans are on hand to install new machines to meet the demand," he notes.
About Japan Overseas Cooperation Volunteers (JOCV)
JOCV is a program under Japan International Cooperation Agency (JICA). JOCV started its operations in Tanzania in 1967 and by March 2020, more than 1,700 Japanese volunteers including Mr. Hasegawa had been dispatched to work in various sectors and areas of Tanzania. The program aims at assisting developing countries to enhance social and economic development with emphasis on self-reliance for sustainable change in various sectors.
About Mr. Tatsuo Hasegawa
Managing Director of Matoborwa Co. Ltd., is a former JOCV who was an agricultural extension worker at Capital Development Authority (CDA) in Dodoma (1995-1998). Obtained M.A. in Kyoto University, Japan. Studied at Sokoine University of Agriculture for two years (1999-2001). Has experience working in food industry, agricultural publishing company, doing consultancy, etc. in Japan. Established Matoborwa Co. Ltd. in Dodoma. In collaboration with local farmers, Mr. Hasegawa is trying to create a food processing industry, which will produce high quality competitive products for the market.
About Matoborwa Co. Ltd.
Established in 2014 in Tanzania, the company registered a Japanese sweet potato variety called 'Tamayutaka' and producing dried sweet potatoes. Now their products are in major supermarkets in Tanzania. As result of working together with farmers to improve the quality to deliver excellent dried sweet potatoes. The company strives to continue providing provide good quality services with reasonable cost to its customers in Tanzania and in Japan.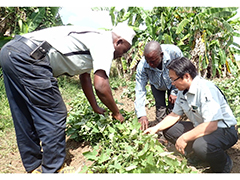 Mr. Hasegawa is checking the situation of plants with contract farmers (in 2017)
For further information, please contact:
JICA Tanzania Office, P.O. Box 9450,
Dar es Salaam, Tel: 022-211327/30
Ms. Noriko Ogasa: jicatz-vcs@jica.go.jp
Ms. Catherine Shirima: ShirimaCatherine.Tz@jica.go.jp