Iringa. Garbage storage containers in Iringa Municipal Council are in bad shape with blame going to the peoples' habit of dumping hot waste in the containers.
This was revealed by the Mayor of Iringa Mr. Ibrahim Ngwada during a meeting with a group of people who studied in Japan with the support of the Japan International Cooperation Agency (JICA), namely JICA Alumni Association of Tanzania (JATA), to discuss waste management issues in the region. The meeting was held on November 26, 2021.
Mr. Ngwada urged the community members to stop dumping hot wastes in the containers for the equipment to last longer.
"The municipality faces a huge shortage of garbage trucks. We therefore ask the community members to stop dumping hot wastes in the containers because they cause damage to the storage facilities," he said.
The council, according to him, plans to continue repairing the damaged containers regularly, while providing education on sanitation to ensure that the municipality remains clean.
In another development, the Iringa municipality showed its gratitude to JICA for continuing to support environmental protection and sanitation for a long time.
Iringa municipal council has recently been a top runner in national cleanliness competitions and hopes to maintain this top position during the 2021 sanitation and hygiene race.
On his part, JATA Chairman Gregory Mlay said, amongst other field areas, the association is now looking for better ways of recycling the wastes as a way of sustainably improving sanitation in the region.
JATA, according to him, also provides education to groups of people in the community on the collection of wastes and safe disposals so that they do not cause environment disruption when stored in garbage storage containers.
JATA members had an opportunity to visit sewage systems which were constructed by a JICA training alum who is now an Iringa District Council Environmental Health Officer Mr. Christian Ndenga.
Mr. Ndenga suggested a need of engaging stakeholders when dealing with solid wastes to see how they can control them before dumping them to the dumpsites.
He stressed the need of sorting wastes before storing them in garbage containers or dumpsites.
"The council has 18 groups which are in training of wastes collections and recycling. However, the waste sorting skills remain as a major challenge here", he said.
About JATA (JICA Alumni Association of Tanzania)
JATA is an association that brings together all ex-participants who had opportunities to study in Japan or in other countries under the sponsorship of JICA, which is the implementing agency of Japan's Official Development Assistance (ODA).
For further information about JATA, please go to JICA Tanzania's website below:
About JICA (Japan International Cooperation Agency)
An incorporated administrative agency in charge of administering Japan's ODA (Official Development Assistance). It is one of the world's largest bilateral aid agency supporting socio-economic development in developing countries and in different regions of the world.
In Tanzania, JICA has been a long partner of Tanzania for approx. 60 years in many sectors since 1962.
For further information about JICA, please go to JICA Tanzania's website below: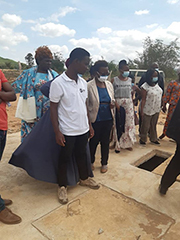 JATA members visiting Decentralized Waste Water Treatment System (DEWATS) constructed by a JICA Ex-participant Mr. Christian Ndenga in Kitwiru area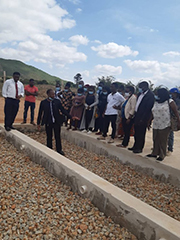 JATA members visiting Decentralized Waste Water Treatment System (DEWATS) constructed by a JICA Ex-participant Mr. Christian Ndenga in Kitwiru area
For more information, please contact:
Evona Mathew (Ms.)
JICA Tanzania Office, P.O. Box 9450, Dar es salaam
Tel: 0682 216089: Email: Mathew-Evona@jica.go.jp