Japan International Cooperation Agency (JICA) has been supporting transport sector for over 40 years. Presently JICA has, upon the request of the Government of Tanzania, been engaged in the the Transit Oriented Development (TOD) Project for Dar es Salaam. TOD is one of the strategies proposed in Dar es Salaam Urban Transport Master Plan supported by JICA in 2018.
On 28th December, 2021 JICA Tanzania Office organized a kick-off meeting on the Detail Planning Survey for the "Project for Transit Oriented Development (TOD) for Dar es Salaam", which was very successful. The various stakeholders attended the meeting physically and virtually, by connecting several points including Tokyo, Japan. Attendance includes President's Office Regional Administration and Local Governance (PO-RALG), Ministry of Finance and Planning, Ministry of Works and Transport (Works), Ministry of Works and Transport (Transport), Ministry of Lands, Housing and Human Settlement Development, Dar Rapid Transit (DART) Agency, Tanzania Railways Corporation (TRC), National Institute of Transport (NIT), Tanzania National Roads Agency (TANROADS) and Dar es Salaam City Council.
JICA extends its sincere gratitude and appreciation to the Institutions for attending and actively participating in the meeting. Their contributions were fruitful and constructive.
Dr. Edwin Mhede, Chief Executive of DART Agency said, in the meeting, "TOD is meant to add value to a public transport such as Bus Rapid Transit (BRT), it is also a policy which enables to generate income through value addition to the public transport. Because so much time has been lost, it is high time to move fast with the project until it is implemented."
From JICA participant, Ms. TSUBOIKE, Asuka, Senior Director of Urban Development Group, JICA headquarters in Tokyo said, "Detail Planning Survey Mission will be dispatched to Tanzania from Japan in mid-January 2022. The purpose of the Mission is reviewing existing information and data, formulating project scope to be implemented, identifying key issues on implementation of the project and propose recommendations."
Participants discussed contents of the TOD Project on the basis of the request from the Government of Tanzania. The meeting also discussed roles and responsibilities of various stakeholders of the project. Furthermore, participants agreed to attend the next Joint Meeting on Detail Planning Survey for the Project for TOD to be held on 17th January, 2022.
The TOD Project will lead to sustainable development of the city of Dar es salaam. The city will be desired, liveable, economic regional gateway in Eastern and Central Africa as a result of Project implementation.
TOD Project will lead to sustainable urban structure, vital economy with efficient activities, society with equal opportunity for all, and quality of life with safe and good environment.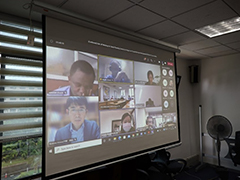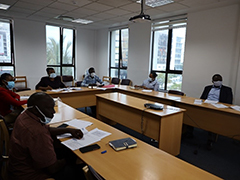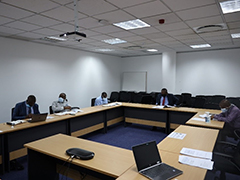 Scenes of the meeting. Some participants joined the meeting virtually from Tokyo, Japan and Dodoma, Tanzania, while others attended physically at JICA Tanzania Office in Dar es Salaam.
For more information, please contact:
Mr. Henry R. Kajange
JICA Tanzania Office
Tel: +255-787-464-620
E-mail: Kajange-Henry@jica.go.jp