Dar es Salaam. On January 25 and 26, 2022, Japan International Cooperation Agency (JICA) held a two-day seminar whereby 11 Tanzanian JICA alumni who benefited from JICA training programs either in Japan (or online) contested by demonstrating their competitive development ideas as an act of utilizing skills obtained from their training programs.
The first four-winners were awarded certificates of appreciation by JICA's Chief Representative, Mr. YAMAMURA Naofumi.
The first prize went to Ms. Beata Minga, a JICA alumni and the Regional Manager of the Small Industries Development Organization (SIDO) Pwani Region Office, who developed a Demonstration Project called the "Value Addition on Bees' Cosmetics Project", which was designed to build the agro-processing capacity of beekeepers in the region.
Through this project, the beekeepers are now able to produce shampoo, shower gel and body cream using their bees' honey.
"I thought it was a good opportunity to apply for the Demonstration Project and utilize what I learned in Japan, in order for beekeepers to increase their earnings by value-added products," she said.
The second award went to the developer of the "Improvement of Virgin Coconut oil Production", while the third one went to the founder of the "Lishe Smart Project". Additionally, a special prize was awarded to the developer of the "Upscaling appropriate technologies for rice production through demonstration under irrigated conditions to smallholder farmers in the Southern Highlands of Tanzania project".
Since 1962, for more than 60 years, Tanzania has acquired extensive human resource development programs through JICA's Knowledge Co-Creation Program (KCCP) in Japan.
With more than 6,500 ex-participants from a myriad of training programs by JICA, including 90 alumni from the "Master's Degree and Internship Program of the Africa Business Education Initiative for Youth" (ABE Initiative) who are expected to guide and bridge between private sectors both in Tanzania and Japan.
Although there are many beneficiaries of JICA training programs, there is yet more room to support ex-participants to fully utilize their skills and knowledge they acquired in Japan, and revitalize the alumni organizations.
Therefore, JICA supported these 11 Demonstration Projects that were competitively selected from more than 50 proposals by JICA alumni. This activity was a part of JICA's "Data collection survey on activities by ex-participants of JICA training programs and implication to the future training programs", to identify the challenges the ex-participants face, find out effective measures to revitalize Alumni associations of the ex-participants, and obtain recommendations for better design of training programs.
For further information, please contact:
JICA Tanzania Office, P.O. Box 9450, Dar es Salaam,
Tel: 022-211327/30 Fax: 022-2112976
Ms. AOKI Yu Aoki.Yu@jica.go.jp
Ms. MTAMBALIKE Mbonisewa Mtambalike-Mbonisewa@jica.go.jp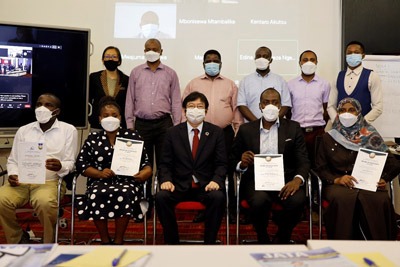 Presenters from 11 demonstration projects and online participants on the back at the seminar. The 4 Tanzanian JICA alumni in the front line received awards.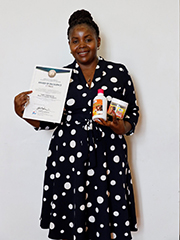 Ms. Beata Minga, the Regional Manager of SIDO Pwani Region, was awarded the 1st prize of all the 11 demonstration projects, because the projects had large impacts on beekeepers in Pwani Region.