JICA Alumni Association of Tanzania (JATA) held a workshop seminar at the Institution of Education for the offenders at Kilimani, Zanzibar to disseminate new knowledge gained through JICA's training programs (KCCP) to reduce number of crime cases to youths in the Island.
The main agenda "Access to Justice", reflects a current increase in social evils among the youths in Zanzibar, leading to awful incidences, as it also evident that the rate of youth imprisonment has increased over the last four years.
The workshop focused on the main features of the transition to adulthood through determining the factors that influence the advancement of offences and advocated for the right approaches with transparency to take advantage of increasing opportunities for innovation and entrepreneurship.
The Guest of Honor was the Regional Commissioner of West Zanzibar - Hon. Idrisa Kitwana Mustafa, other Zanzibar high-ranking officials attended the workshop; Commissioner of the Institution of Education for the Offenders - Mr, Hamis Bakari Hamis, Permanent Secretary Ministry of Education- Dr. Idrisa Muslim, Director of Zanzibar Water Mineral and energy - Mr. Mudrik Abbas and the Former Minister of Zanzibar Infrastructure- Dr. Sira Mamboya. About 45 JATA members, two Ex-convict, two graduates from University of Dar es salaam and staff from the Institution of Education for the Offenders.
Mr Kitwana said the theme was useful and relevant since the government has been helping to address the problem of increasing the number of youths in the Institution of Education for the Offenders in Zanzibar and countrywide.
He emphasized on the establishment of Youth policy and recognition of the youth talents for socio-economic development and reduce crime acts. He urged youths to use their talents for positive changes in their job places.
Mr. Gregory Mlay, JATA Chairperson acknowledged that JICA has been at the forefront of country's major development partners and has been supporting various trainings for Tanzanians.
He also informed that JATA has been carrying out various activities every year to continue strengthening its friendship with Japan as well as helping Tanzanians supported by JICA.
"This event is the opportunities to use the skills and knowledge we have acquired for the community, personal development and the nation as a whole," he noted.
In another development JATA members discussed several ways to positively educate the youth and support them in skills development through trainings and mentorship to create suitable employment opportunities for the present and future generations. The discussion would have hints to reduce the rate of youth imprisonment as well as to bring awareness to the community to stop discrimination to the ex-convicts once they are released from the prison.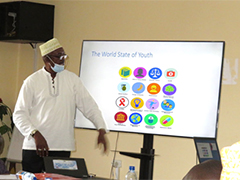 Presentation on Youth's Criminology in Zanzibar during the workshop at the Institution of Education for the offenders, Kilimani - Zanzibar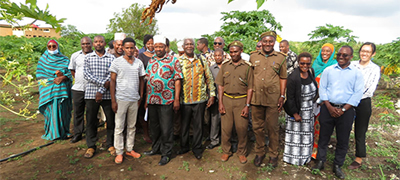 The Institution of Education for the offenders' Farm visit located at Hanyegwa Mchana
For more information about press conference, please contact:
Ms. Aoki Yu: Aoki.Yu@jica.go.jp
Ms. Evona Mathew: Mathew-Evona@jica.go.jp
JICA Tanzania Office
P.O. Box 9450, Dar es salaam
Tel: +255-22-2113727/30