Malnutrition, which frequently faces mothers, pregnant women and children will soon be considered a thing of the past - thanks to the publication of a vegetable recipes book called "Vegetable Cookbook for pregnant women and children". The book was published by a JICA Project, TANSHEP in collaboration with the District Offices of the Ministries of Agriculture and Health to encourage vegetable consumption among Tanzanian consumers, with an aim of expanding vegetable markets and improving nutrition status of mothers/expecting mothers and infants. It introduces various combination of vegetables and meat with new cooking methods to maximize impact of and not to lose the nutrient value.
The cookbook was used in the vegetable consumption campaign in September 2022 in Meru District Council, Moshi DC and Lushoto DC and such demonstrations were received very positively.
"It is a good idea to puree all vegetables using a blender. Vegetables are dissolved into a potage and my children would enjoy eating it without recognizing vegetables", remarked one of the beneficiaries.
All the recipes in this book are using nutrient-dense vegetables which TANSHEP farmers are producing or potentially producing in the future.
Those who are interested in the cookbook, please check the link below. Let's eat more vegetables.
TANSHEP (Tanzania Smallholder Horticulture Empowerment and Promotion) is a market-oriented horticulture project, being implemented by Ministry of Agriculture and President's Office Regional Administration and Local Government (PO-RALG) in cooperation with Japan International Cooperation Agency (JICA), covering the three regions of Kilimanjaro, Arusha and Tanga. The project capacitates farmers to gain more income by encouraging them to look at market needs first. It promotes market survey by farmers before starting production so that they could capture what types of vegetables are in need when, where and how much.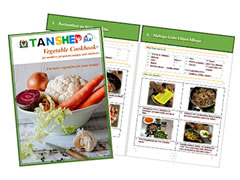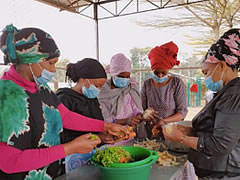 For additional information, please contact:
JICA Tanzania Office, P.O. Box 9450, Dar es Salaam,
Tel: 022-211327/30 Fax: 022-2112976
Ms. Yukari Inagaki / 0682215969 / Inagaki.Yukari2@jica.go.jp
Ms. Veronica Balua / 0682216080 / BaluaVeronica.TZ@jica.go.jp