Next INnovation with JApan (NINJA) is a start-up support initiative designed to support entrepreneurs and start-ups in developing countries which are creating innovative business models and technologies to solve social issues. NINJA's support includes entrepreneurship development activities, business matching, promotion of venture/impact investment, and policy recommendations to strengthen the ecosystem.
JICA Tanzania launched the second NINJA competition in January 2022 (NINJA2) to continuously support start-ups in Tanzania, and is pleased to announce the successful completion of NINJA2.
As a first selection stage of NINJA2, 3 Tanzanian start-ups emerged from a total of 162 applicants whereby JICA had provided capacity building program for them for 5 months. Then, as a final selection stage 2 out of the 3 start-ups were selected as a winner i.e., EcoAct Tanzania Limited, Agripoa Company Limited. JICA provided cash award for these 2 start-ups to support their Proof of Concept (PoC) activities.
As part of the Initiative, 3 start-ups selected at a first selection stage took a capacity building session based on their identified technical capacity building needs through Deloitte Consulting Limited. The technical assistance included monitoring their progress, mentoring, and guiding them on the execution of their PoC, revision of their PoC plans and evaluation of their business operations. Through the technical assistance they have mobilised/brushed up their business and managed to improve their organisational capacity by refining business models and defining business strategies, as well as optimising marketing approaches. Furthermore, three start-ups received opportunities to make a presentation to Japanese stakeholders (e.g., Japanese companies, Japanese investors, etc) and Tanzanian stakeholders including Tanzanian start-up ecosystem players.
Based on the brushed up their business model and strategy though capacity building session, 2 awarded companies implemented PoC activities for 5 months. They improved their business operation and expand their business though PoC. In February 2023, JICA published their documentary videos of their activities in order to promote their entrepreneurship and also to raise awareness of NINJA.
1. EcoAct Tanzania Limited
Capacity Building session of EcoAct
[Company Profile]
Established in 2018, EcoAct Tanzania is a social enterprise that focuses on addressing the challenges of post-consumer plastic pollution, waste management, ocean pollution, deforestation, and climate change. EcoAct uses an innovative plastic extrusion technology called "Waxy 2" to recycle waste plastics and turn them into plastic lumber. Plastic lumber is an affordable alternative to wood, reducing the need for building and furniture materials made from wood.
EcoAct uses 100 % recycled post-consumer plastic waste to manufacture durable, affordable, and environmentally friendly plastic lumbers for use in applications ranging from building, construction, furniture making, fencing to landscaping. Bringing the most environmentally conscious products on the market today with unique features, EcoAct's technology ensures that its manufactured plastic lumbers do not rot, are termite resistant, are waterproof and last more than 40 years without replacement whether used in dry or wet areas.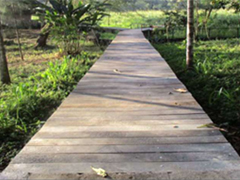 Promenade utilizing plastic lumbers manufactured by EcoAct
[NINJA Initiative]
The capacity building session has enabled EcoAct to document a strategic plan to guide long-term organisational planning and operations to achieve its long-term goals and define its goals and aspirations in measurable commercial terms. As a result, the organisation will be able to have structured quarterly and annual plans linked to its business strategy. Moreover, EcoAct is developing a marketing strategy that will provide more clarity around customer profiles, effective marketing channels, key stakeholders to engage and what digital platforms will be more effective to better target its customers. Through the capacity-building sessions, the company has identified a clear direction in terms of being able to attract an investor portfolio to help scale the business.
[Documentary video of EcoAct]

2. Agripoa Company Limited
Farm Management Sofware of Agripoa
[Company Profile]
Agripoa is a Farm Management Software that uses Artificial Intelligence to help African poultry farmers to plan, monitor and analyse farm activities with a help of data-driven insights to make the right decisions at the right time. Agripoa started operations with Poultry farmers but plans to expand other livestock, horticulture and crops.
The app is used by farmers to detect poultry disease and provides advice on the course of action to take, including medication and best practices. The app also allows a farmer to chat with a farm expert and allows a farmer to record daily farm activities and expenses.
Currently, the Agripoa App works on the Android platform. Users with Android Cell phones can download the app through Google Play Store. The app enables farmers to do the following:
Get Market Information including market connections, determine the product with high demand in the market, the quality of products needed in a given market and the demands and standards of buyers.
Get Farm Data Insights and Analytics to be able to know the development of the farm, get the Vaccination Calendar, know the quantity of food to feed animals and get informed about new outbreaks and how to treat them.
Gain Knowledge from Professionals through communication with veterinarians, get solutions to poultry diseases and exchange of ideas with other farmers.
Revenue and Expenditure Management by tracking the money spent on purchasing animal feeds, medicine and other farm inputs and receiving alerts when there is overspending.
[NINJA Initiative]
Through the capacity building session, Agripoa has been able to identify strategies to increase traction and guide its operation and planning so that it can commercialise its other services to increase revenue. The company has also been able to develop a three-year strategic plan to guide its operations and planning. Furthermore, Agripoa successfully partnered with Jubilee Insurance Company to provide insurance services to farmers who are registered via its app.
[Documentary video of Agripoa]