The training has been conducted every year since 1975, changing its contents according to global trends and needs. It was implemented from January to February in 2022.
Developing next generation leaders to lead tuberculosis control programs.
Tuberculosis (TB) had been the leading cause of death from infectious diseases until the COVID-19 pandemic broke out. About 10 million people fell ill with tuberculosis, and approximately 1.4 million people lost their lives worldwide in 2020. JICA and The Research Institute of Tuberculosis, Japan Anti-Tuberculosis Association have given technical training to laboratory technologists and medical doctors from high TB burden developing countries since 1975, utilizing the know-how to control TB which Japan has developed after the Second World War. As many as 371 participants from 60 countries have been accepted for the training. Hiroko Matsumoto, the course leader, explains as follows.
"TB is a treatable and curable disease. However, it has a long incubation period, and about 6 months or more than 1 year of treatment at longest after onset is necessary for TB to be cured completely. As patients need to take medicine for a long period of time, if they don't understand the treatment plan properly, some of them stop treatment when their symptoms are relieved. In such a situation, TB bacilli tend to have drug-resistance, and it could cause Multidrug-resistant TB. To break out of the vicious circle, the whole society including doctors, laboratory technologists, nurses who monitor treatment, and health administration need to share correct knowledge and skills on TB and to establish the system for "breaking the chain of infection" to find and treat patients surely."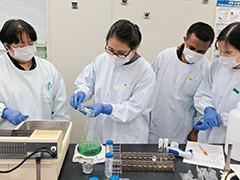 Participants making medium for tests under the guidance of Matsumoto, the course leader
In the training in Japan, they have emphasised group hands-on training. Regardless of doctors in charge of laboratory tests or laboratory technologists, participants cooperate in group training to learn from the basics of TB bacilli tests to the latest technical skills because it helps participants to recognise their and other participants' knowledge and skills to be improved.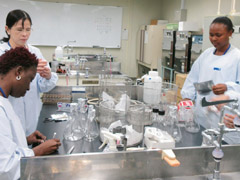 Washing and sterilizing laboratory glassware are important for accurate test results. As some participants have no experience, they are taught how to do it.
"While healthcare workers in developing countries have chances to be exposed to the latest technologies in lectures, they have fewer places and opportunities to have practical training. Therefore, even if they have knowledge, it could sometimes result in inaccurate diagnosis when they don't have correct skills. As many participants have no experience washing and sterilizing laboratory glassware, they also learn how to do it because improper washing and sterilizing could cause false test results."
In addition, they have also provided training on laboratory management such as " 5S "which makes use of Japanese knowledge as well as leadership. They expect participants to take back what they learn to share with others in their countries and to lead TB control programs as leaders of TB laboratory.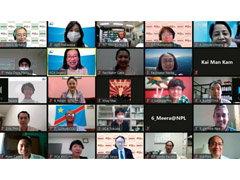 Online training is well designed such as including exercises in lectures
Due to immigration restrictions to Japan under COVID-19 pandemic, online training has been implemented, focusing on management and leadership training in recent years. Having online training in participants' countries brought a positive effect which allows busy doctors and laboratory technologists in important positions who wouldn't be able to come to Japan to participate in the training. As the saying goes "Turn a misfortune into a blessing", what participants gain in the online training will be applied in TB control programs under pandemic.
" 5 S " of Japan is implemented in our laboratories
I provide training to staff who work for laboratories related to the National TB Reference Laboratory as the Learning and Development Officer in the Philippines. As a trainer, I need to have updated technologies and knowledge of different laboratory tests. I was exposed to various laboratory processing and technologies in the training such as TB microscopy, solid and liquid TB culture and drug susceptibility testing, line probe assay, and GeneXpert MTB/RIF assay utilizing PCR. I could deepen my understanding of "Universal Health Coverage" which means that all people have access to the health services they need. I also learned Japanese management methods such as "5S" consisting of "Sort, Set, Shine, Standardize, Sustain". All I learned has become a great asset to me.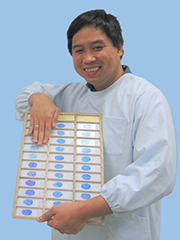 Mr. Ryan V. Castro; Participant in the 42nd training (2016)
Science Research Specialist, the Research Institute for Tropical Medicine in the Philippines.
Learning and Development Officer, the National Tuberculosis Reference Laboratory, the Research Institute for Tropical Medicine in the Philippines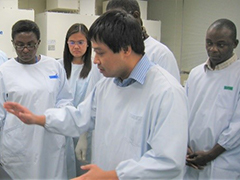 Ryan V. Castro participated in his 2nd training as a facilitator. "It was a wonderful experience to share what I had learned "
The experience taught me a lot other than technical skills.
I participated in the training in 2017 as I believed the experience would be beneficial to our work in TB research in the Philippines. It was a very meaningful opportunity to see how Japanese technologies such as TB-LAMP developed by Eiken Chemical and Line probe assay of Nipro were actually used for timely and proper diagnosis in medical settings and research institutions. The practical training in a team with other participants of diverse personalities and cultures taught me effective and smooth communication skills and resilience as well as technical skills. It was also very beneficial to meet other researchers in the same field as well as new friends. I have been using technologies and knowledge I gained in the training to improve TB control system and research in the Philippines.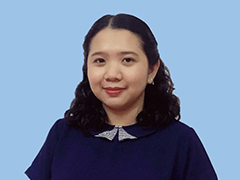 Catherine Ann Sacopon
training (2017)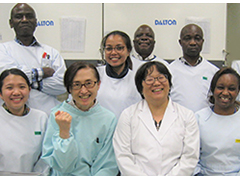 A memorable photo on the last day of group work. Her teammates, Catharine (the lower left), and Matsumoto, the course leader (the lower right -middle)