Education
Quality education is a cornerstone for not only individual capacity development, but also sustainable socio-economic development. JICA has been supporting government programs aiming at improving the quality of education, especially in the post-primary sub-sectors.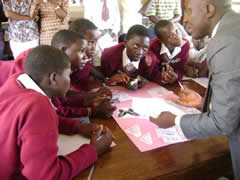 Secondary Science and Mathematics Teachers' (SESEMAT) Project Phase III
In 2005, Japan began "Secondary Science and Mathematics Teachers' project (SESEMAT)" under which more than 450 science and mathematics teachers received training. Upon request of the Government of Uganda in 2007, Japan expanded the support and added 42 districts to the original target of SESEMAT. As a result, a total of 5,534 teachers had received SESEMAT training by 2011. Furthermore, 180 tutors at Primary Teachers' Colleges (PTC) and 30 lectures at National Teachers' Colleges (NTC) in the field of science and mathematics received customized trainings based on their needs. Subsequently, in 2013, SESEMAT Phase III Program commenced and focused on three areas, which are in-service training, regional based activities, and development of teaching reference to strengthen teaching ability. The feature on Phase III was to introduce "Unit learning with Unit Plan" which is a higher framework in which a group of lessons are to be naturally linked.
TVET-Leading Institution's Expansion of Human Resource and Skilled Workforce Development for Industrial Sector in Uganda (TVET-Lead Project)
Since 1968, JICA has supported Uganda's TVET through the Nakawa Vocational Training Institute (NVTI), which was upgraded to Nakawa Vocational Training College (NVTC), by providing facilities and equipment, strengthening the organization and training management system as well as enhancing technical knowledge and capacity of instructors. The main objective of JICA's involvement in TVET was to improve the quality of vocational training to meet the demand of human resources in the country. Since 2014, TVET-LEAD project was started for the purpose strengthening the capacity of NVTI for human resource development to respond to the needs of the private sector. One of the biggest achievements was establishment of Vocational Diploma in Electrical Engineering and Automobile Engineering, and this breakthrough led the institution to be upgraded to a Vocational College. Furthermore, NVTC has been strengthening the partnership with private sector, through the PPPWG (Public-Private Partnership Technical Working Group.) This approach has resulted into NVTC graduates and trainees being linked to businesses and organizations that are in need of their skills.
Training Programs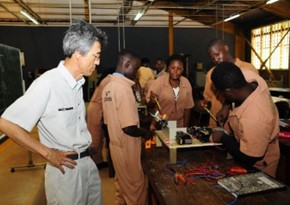 Knowledge Co-Creation Program (KCCP)
The Knowledge Co-Creation Program (KCCP) is a technical cooperation in Japan by JICA with a focus on contributing to the development of human resources to address and/or solve targeted problems in developing countries as well as promoting mutual understanding and friendships between the countries. The Japanese society has developed uniquely by fusing its national characteristics with foreign knowledge and technology. Most of these experiences accumulated in Japanese society can be understood better by visiting Japan. The KCCP therefore provides people in developing countries with valuable first-hand opportunities to learn Japan's experience and technologies in specialized fields that will be useful for the future development of their countries. Covering a wide range of areas of development knowledge such as governance, education, health, agriculture, transportation, urban/rural development, water and environment, gender and development, information and communication technology, peacebuilding, private sector development, and disaster management, the programs expect participants to share acquired knowledge and skills with colleagues in their workplaces for human resource development and building organizational capacity. Currently, JICA dispatches around 50 participants from Uganda every year, and more than 2,000 personnel, mainly from government organizations, have visited Japan to acquire first-hand knowledge and expertise.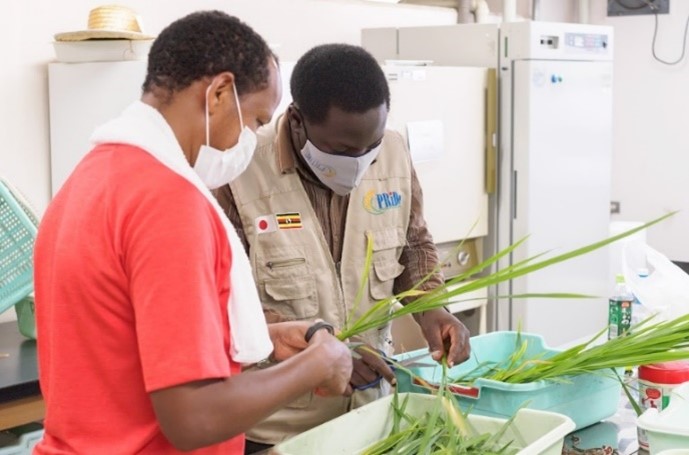 African Business Education Initiative for Youth (ABE Initiative)
The ABE initiative was launched in 2013 at the Fifth Tokyo International Conference on African Development (TICAD V) and provides African youth with opportunities to study at master's courses at Japanese universities as well as to experience internships at Japanese companies. It aims to develop human resource who will contribute to the industrial and business development in Africa and build business networks between African and Japan, while serving as "navigators" for Japanese companies. Since 2014, JICA has accepted about 1,600 participants from all 54 African countries in this initiative. The uniqueness of this program in comparison with other scholarship programs lies in what is called "Business Program", which is offered to the participants in addition to their master's courses. As of 2022, 35 participants have been dispatched from Uganda.