The JICA USA Office facilitates information exchanges and promotes partnerships between JICA and the multilateral organizations, U.S. government agencies, research institutions, and universities based in the U.S.
The JICA USA Office also disseminates news and hosts events to raise awareness about JICA's global operations and its unique approach to development.
Although it functions primarily as a liaison office, JICA USA is responsible for organizing the dispatch of emergency relief goods when natural disasters strike in the Latin America and Caribbean region.
Collaborative Dialogue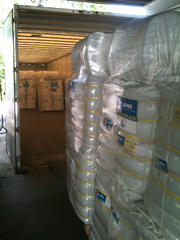 JICA's emergency relief goods include blankets, tents, and water tanks.
The JICA USA office initiates discussions with Washington-based aid organizations on a daily basis in order to exchange information on policies and projects, to explore partnership opportunities, and to enhance donor coordination.
Such discussions are an essential element to achieving common goals like the "Sustainable Development Goals (SDGs)" and deepening partnerships based on the Government of Japan's "Free and Open Indo-Pacific Strategy." In addition, dialogue among stakeholders is important for addressing shared challenges like poverty eradication, peacebuilding, as well as upholding regional stability through "high quality growth" and enhanced infrastructure which includes the provision of Universal Health Coverage (UHC) for improved life outcomes-again, with the SDGs in mind.
Outreach
The JICA USA office works to raise awareness of JICA activities and accomplishments among a wide range of stakeholders in the U.S., including government agencies, multilateral development banks, think tanks, universities, NGOs, and the broader public. We disseminate information about JICA's work in a variety of formats (including press releases, publications and the bimonthly JICA USA Newsletter), and we host and participate in seminars and workshops to highlight different aspects of JICA's development assistance.
Research
The JICA USA office leverages its proximity and access to U.S.-based experts by collaborating with top research institutions to study a range of pressing development topics, including SDGs, public-private partnerships, and innovative financing. These studies are used to inform JICA's operations and to contribute to the ongoing debate on aid effectiveness.
Dispatch of International Emergency Supplies
When a natural disaster occurs in Latin America or the Caribbean region, the JICA USA office promptly arranges shipments of emergency relief materials from its warehouse located in Miami, Florida to assist the affected populations.