On August 7, the Japan International Cooperation Agency (JICA) signed a Record of Discussions with the Government of the Republic of Serbia in the City of Belgrade for the Project for Modernization of Public Urban Transport in the City of Belgrade, a technical cooperation project.
The purpose of this project is to improve the operational efficiency of public buses, trams and trolleybuses, which are the primary means of transportation for Belgrade citizens. The project aims to reduce the financial burden of the public transportation sector and to promote the updating vehicle facilities that meet environmental standards. It also aims to build an environmentally friendly public transportation system that the city is targeting, thereby contributing to the SDGs Goal 11.
In Belgrade, buses provided by Japan in 2002 through grant aid are still popular among citizens. However, with the expansion of urban districts and population growth caused by migration from rural areas and other countries, the finances of the public transportation sector in the city are under severe pressure, so the improvement of appropriate transport and route planning and the renewal of vehicles and facilities have become critical challenge. In recent years, the city has made environmental conservation an important issue and has decided to shift to new transportation systems such as electric buses. In order to secure the financial resources needed, it is necessary to improve the efficiency of operations and the rate of fare collection.
In this project, we will not only provide the many years of Japanese know-how in the operation and management of public transportation, but we will also consider the utilization of knowledge in public transport projects in neighboring European regions.
[Basic project information]

| | |
| --- | --- |
| Country | Republic of Serbia |
| Project title | Project for Modernization of Public Urban Transport in the City of Belgrade |
| Planned implementation period | 36 months |
| Executing agency | Secretariat for Public Transport (SfPT), the City of Belgrade |
| Target region | The City of Belgrade |
| Specific project details (provisional) | Expert teams will be dispatched and provide training to the Secretariat for Public Transport (SfPT), the City of Belgrade. They will support the formulation of routes and operation plans according to the actual demand as well as the development and improvement of fare collection systems. |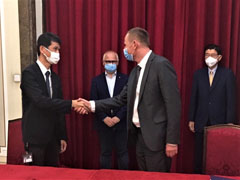 Signing ceremony at the City Assembly of Belgrade