Since the beginning of this month, JICA has deployed 20 JOCV members in softball responding to the request from, Botswana Softball Association (BSA). All JOCVs are Chukyo University Softball team members. As one of their activities, a softball technical clinic was held at Maun with a higher number of participants as compared to the previous year of 2019.
The participants included students and coaches from senior and secondary schools not only Maun, but in Ghanzi, Letlhakane, Makalamabedi, and Maun Technical College, and members from local clubs (Carats, Gheto Yankees, Rail Giants and Maun Delta) that plays on the national league.
As usual, the disciplined Chukyo Softball team started the clinic on high note with cleaning and leveling the softball grounds to condition it for technical exchange while working with students and coaches. The clinic took place for three consecutive days with students and coaches learning softball game tactics as well as coaching skills. Students and teacher coaches were punctual throughout the clinic and fully participated. This showed their commitment to learn as much as they can from Chukyo University.
Botswana Television (BTV) crew interviewed Coach Ms. Aiko, Mr. Johannes from Botswana Softball Association, one student (player) and teacher (coach). Ms. Aiko and Mr. Johannes spoke of the technical clinic, its purpose and the impact expected while the student from Tsodilo Junior Secondary School appreciated the opportunity given to learn from Chukyo University team as a softball powerhouse, and that she is learning as much as possible. The coach Mr. Senai Sugar Mogwasa from Itekeng Junior Secondary School expressed gratitude to learn from the best. He said he took applied lessons and experiences gained from last year's clinic and he have seen great improvement from his school team where they qualified for zonal level. This year present itself as an opportunity to learn more to implement at his school again.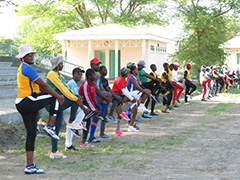 Warm up session for the players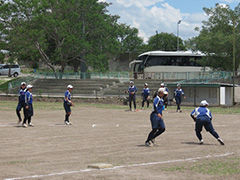 Chukyo players demonstrating simulation
On the last day as the technical clinic was closing, the meeting closed as follows with speakers from different representative bodies;
Mr. Tebogo Johannes – Sports Development Officer (Botswana National Sports Commission & Botswana Softball Association),
He thanked both players and coaches for their commitment, passion and active participation during the entire technical clinic of three days and that they should not seize to implement what they have learned.
Mr. Tapson Patane – Sports Volunteer Movement
Mr. Patane motivated the technical clinic participants that they shall play sport with passion rather than being forced by teachers. He said when doing something out of passion it becomes a lot more easier to do it.
Ms. Masego Moiya – National Organiser – Botswana Integrated Sports Association (BISA) and Botswana Softball Association Ex-Officio
She appreciated the high turn up this year as compared to last year. She encouraged both coaches and players to continue implementing what they learned and to teach others for a national improvement in softball.
Mr. Antonio Moyo – Softball Legend
He emphasized on good attitude in sport, good discipline, commitment, resilience, repeat in training until one can must something, application of fundamentals in training and positivity in the field while training and on game matches. He also encouraged students to study hard on their education.
Ms. Aiko Nakamura – Softball Volunteer Coach attached to Botswana Softball Association
She stated that student must not forget their dreams while playing sports because they can become whatever they want to be. Despite communication barrier that took place during technical clinic, the participants must take home all lessons learned and utilize them.
Mr. Yuki Nihei – Chukyo University Softball Team Head Coach
He encouraged both players and coaches to be positive in softball sport and he emphasized on recovering or rectifying mistakes when one makes one. This will save time and perfect the skills and knowledge thereby improving execution.
The technical clinics are going well since they started at Goodhope, Jwaneng, Masunga, and Maun and will end in Gaborone on March 2, 2020 before going back to Japan on March 4, 2020.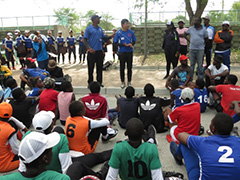 Address by Mr. Johannes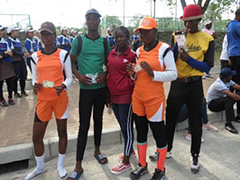 Best players received souvenirs