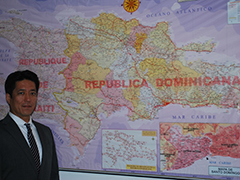 Hispaniola - an Island of the Caribbean where Christopher Columbus had arrivied on his voyage for Asia in search of gold and spices.
The Dominican Republic has its ocuppancy of approximately two thirds of the eastern portion of this island, being slightly smaller than the regional island of Hokkaido in Japan.
With the population of approximately11 million, this country receives nearly 8 million aspired tourists per year mainly from Europe and the United States for the resorts with bright cobalt blue seas and white sand beaches. In addition to the sector of tourism, its exportation of textile products and other goods of light industries from free trade zones (free zones) support the Dominican economy. In recent years, the country has achieved a high rate of economic growth between 5 and 7%.
This economic growth is expected to remain in high levels towards the future, which attracts more foreign investments to come. However, behind such economic development, the expansion of disparity and environmental issues has become the great challenges for the country.
Consequently, JICA has developed various cooperation projects mainly focusing on two priority areas: "Sustainable Economic Development" and "Reduction of Disparities". In recent years, we particularly emphasize on "Regional Tourism Development", "Waste Management" and "Support to Local Governments". To date, JICA has dispatched more than 1,000 Japanese volunteers to the country, while more than 2,000 Dominicans counterparts have participated in technical trainings in Japan. Last but not least, we also consider our support to local Japanese society is very important for our office, as for we know Japanese immigrants has left footprints in our history and hearts and their society continue to be a bridge that unites the Dominican Republic and Japan.
Japan's technical cooperation in the Dominican Republic began in 1964. Ever since, we implemented the variety of cooperation program in this country. Recently, the fruits of our efforts of dedication manifest time to time in our activities. For example, we encounter higher-ranking officials in government institutions who are the alumnus of JICA training program in Japan. Be like, we observe the large irrigation facilities built more than 20 years ago with Japan's financial assistance still produce tremendous agricultural crops. There are many of such evidences have been taken over in our cooperation.
Regarding the results of the cooperation as our great assets and also taking into the current reality into account, we will continue to work together with the Dominican People for strengthening our relationship and for the challenges to open our better future of the both countries.
KONDO Takayuki
Resident Representative of JICA- Dominican Republic