Motivation to study in Japan: What makes the Hiroshima University JICA-DSP program unique? -Interview with JICA scholars- (November 2020)
Khamis Bol Ajak Aguar from South Sudan and Adolf Kwadzo Dzampe from Ghana recently participated in the unique JICA-DSP program offered by the Graduate School for International Development and Cooperation at Hiroshima University. They share their experience and learnings and talk about how the program has inspired them.
From South Sudan to Hiroshima: A Unique Experience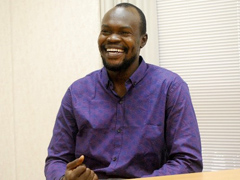 Name: Khamis Bol Ajak Aguar
Country of Origin: South Sudan
Faculty and University: Graduate School for International Development and Cooperation, Hiroshima University
JICA Course: SDGs Global Leader Course (JFY2020)
Before Japan
Khamis Bol is from South Sudan, where he graduated from the University of Juba, a national university. His education includes multiple degrees in international communication and journalism. Before coming to Japan, he has played diverse professional roles—from being an English-to Arabic translator to a radio broadcaster, a journalist, and even a teacher.
Motivation to study in Japan
When asked about why he chose Japan, Khamis Bol explains that he first visited Japan for a short-term project at the JICA international center a year ago. He stayed in Hiroshima city for a week and was amazed with the entire experience, be it the hospitality of the people or the teaching methods. He says, "I thought to myself that it would be great to be a part of such a learning environment. So I went back home, and I decided to apply. I was advised by my supervisor to apply to be a Master's student."
Hiroshima University: The experience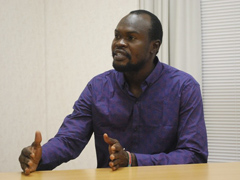 Talking about his experience at Hiroshima University, Khamis Bol explains that he finds learning environment to be extremely conducive. He says that his supervisor Assoc. Prof. Kakee is helpful and he finds himself learning a lot from her, especially from her experience at the UN. He says, "I come from the most newly formed country in the world, which is facing some challenges in terms of social development. So, courses like conflict resolution, conflict prevention, international law, and peacebuilding can help me to contribute into the development of the country."
Being part of an international course amidst the Covid-19 situation
With the world going through a crisis, Khamis Bol speaks about his apprehensions on taking an international course. He says that although Japan is one of the few countries doing their best to control the situation, he was a little apprehensive at first. But after arriving to Hiroshima, it didn't take him long to lose his inhibitions, when he saw the extent of precautions being taken by the university.
Today, we have seen the education system undergoing a massive change worldwide, especially with the emergence of online methods of teaching. How has this led to a change in the teaching methods at Hiroshima University? Khamis Bol says, "Online classes are a bit different, but the university has made it much easier by being on top of everything, for example ensuring that the schedule of the lectures remain unaffected."
Future perspective
Khamis Bol has big plans for when he returns to his country. He says that civic engagement is his main goal and the JICA-DSP courses will be of immense help to him. He says, "So many people in my country don't have the exposure to international courses, so I want to pass on my knowledge and positively influence the learning environment.
He also plans to engage with the youth in his country and inspire them to actively participate in bringing about a change. "The youth in my country have immense potential but doesn't necessarily have the resources to learn. My aim is to change that, as much as I can," he says.
Influencing Policy Decisions in Ghana through Learnings in Japan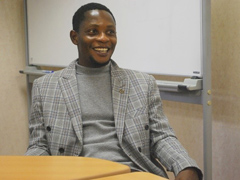 Name: Adolf Kwadzo Dzampe
Country of Origin: Ghana
Faculty and University: PhD Student at Graduate School of Humanities and Social Sciences, Hiroshima University
JICA Course: The Project for Human Resource Development Scholarship (JDS) (JFY2020)
Coming to Japan: Background and Motivation
Adolf is from Ghana, where he worked with the National Health Insurance Authority a government agency that is mandated to administer the country's national health insurance scheme. He says, "I've worked there for 13 years, mostly in the areas of monitoring & valuation and audits of claims from service providers."
About his motivation to come to Japan, Adolf says, "I was previously in Japan for my Master's program in international development from 2014 to 2016, Overall, it was a great experience!"
Choosing overseas education amidst the Covid-19 situation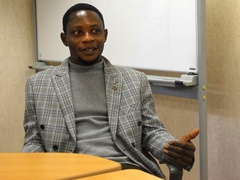 He explains that his main motivation to apply to Japan amidst the pandemic situation was inspired by the values of Japan itself. He says, "Japan is a very advanced country. When I was here back in 2014, what I learned was that when something needs to be done, it has to be done, come rain or shine!"
Online education and its challenges
While for many people, switching to an online method of teaching is difficult, Adolf is more optimistic, owing to all the help that the university has offered. He says, "Online classes are quite challenging, but we have received a lot of logistical support from the university, making it much easier for us."
What makes the Hiroshima University JICA-DSP program unique?
The JICA-DSP program at Hiroshima University is unique, with many interesting courses. Talking about what excites him the most, Adolf says, "The mandatory course on the 'Japanese development experience' is exciting; I'm hoping to learn about the rich culture and traditions of Japan through it." A few other courses, like the one on public economics, are also of interest to Adolf. He says, "Much of my experience has been in the public sector. And I'm quite passionate about improving things within that sector. I'm looking forward to take the courses that would help me contribute to this goal."
Thoughts on the future
When asked about how he plans to apply his learnings when he returns to his country, Adolf says he looks forward to contributing to the health economics sector. He is particularly interested in policies within the social insurance schemes, and for the next couple of years, he aims to understand the Japanese health insurance sector and apply these learnings to improve the situation in Ghana. "My main goal is to contribute towards informing policy recommendations in my country," Adolf says positively.