Experience of joining "Seminar on Regional Understanding -Evolving Issues toward Improvement of the Lake Biwa Regional Understanding" Organized by JICA Kansai (November 2020)
The JICA-DSP offers several types of educational content, including focused lectures such as the "Seminar on Regional Understanding-Lake Biwa", where, imminent scholars take participants on a tour of Lake Biwa, a historically prominent site near the city of Kyoto, and its associated museum, touching upon the socio-political and economic events that took place there.
We speak with Sandra Ngwerume from Zimbabwe and Mr. Shahid Iqbal from Pakistan, participants of JICA-DSP, about their experiences at the seminar and how they are thinking of using these learnings after her time in Japan.
When Regional Experience Impacts Global Development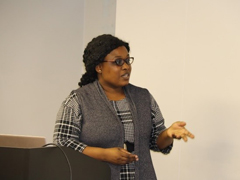 Name: Sandra Ngwerume
Country of Origin: Zimbabwe
Faculty and University: Graduate School of Information Technology, Kobe institute of Computing
Research Area/Theme: ICT Innovation
JICA Course: Master's Degree and Internship Program of African Business Education Initiative for Youth (JFY2019)
Before Japan
After completing a Diploma in Information Technology, Software Engineering from the University of Zimbabwe in 2008 and also an undergraduate degree in Management of Information Systems from Midlands State University, Zimbabwe(2013), Sandra worked in the telecommunication industry in both Zimbabwe and Malawi where she held various positions in Business Development, Technical Support, Leadership, and Consulting roles. To enhance her technical and management expertise in 2018 she successfully applied for the JICA scholarship for a Masters Degree in Information Technology, in Japan with focus on ICT Innovation.
Japan—the best experience
"Through continuous learning, networking and social activities, I have been continuously seeking for platforms to impart and gain skills in ICT innovation and Social development. JICA has created these platforms for me and they include seminars, fields trips and internship opportunities within local Organizations. The opportunity for me to focus on ICT innovation at Kobe Institute of Computing has been extremely enriching for me," Sandra says, calling her experience "the best both socially and academically."
"I am grateful for the support given to me by everyone," she reiterates, a little bit emotionally.
She also explains how JICA has given a new direction to her career. "To me the JICA program is a life changer globally as it seeks to empower young adults and in turn, they develop and transform nations," she says. "To me, that is what I would want to achieve after completing my studies: Play an active role in the transformation and development of individuals, society and nations.
Lake Biwa—an eye-opening tour
Even the seminar at Lake Biwa and its associated museum was a game-changing experience for Sandra. "I came back from Lake Biwa with a whole new perspective on social problem solving. The experience has allowed me to learn more and reflect back at my country, and reinforced my idea that development is possible when the right strategies and right people are involved," she says.
She goes on to elaborate on this, talking about how the lake's exemplary management since ancient times has made it key to several aspects of Japan such as irrigation, drinking water supply, fisheries, tourism, women empowerment, and Japanese literature. "Sustainable development and a safe environment can only be achieved through the involvement of key stakeholders, such as government agencies, scientists, and environmental conservationists, as well as active participation by citizens. This is my broad takeaway," she says.
Specifically, she also learned about the Integrated Lake Basin Management (ILBM) technique, a way to achieve sustainable development.
Life after Japan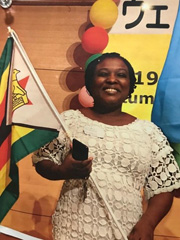 "I am delighted to share that my country Zimbabwe has one of the largest manmade lake by volume in the world. Lake Kariba has served the country in beneficial ways which include electricity generation and fisheries," Sandra says, "with continued stakeholder involvement the Lake will continue to serve the country in a positive way the same way Lake Biwa serves the Kansai Region."
She wants to do a PhD too in Japan. But after all that, when she gets back to her country with these learnings, she intends to make a difference in her community by providing innovation solutions, particularly using ICT. "My plan is to start-up or collaborate with organizations that are aligned with my vision to help improve the livelihoods of people mainly by empowering them," she explains. "When I chose to participate in the Lake Biwa seminar, I looked at the bigger picture where I learn how I can transform the livelihoods of people for the better. I believe I can use the skills and knowledge that I've gathered to help raise awareness and influence change in the management and productive use of lakes in my country."
Japan's Regional Techniques Can Inspire Global Policy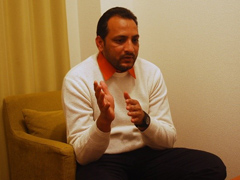 Name: Shahid Iqbal
Country of Origin: Pakistan
Faculty and University: Graduate School of Policy Science, Ritsumeikan University
Research Area/Theme: Policy Science
JICA Course: SDGs Global Leader Course (JFY2020)
Before Japan
With degrees in agriculture and economics, Mr. Shahid Iqbal found his way to the Planning and Development Department of the Punjab province of Pakistan, one of the largest regions to work in. It was in his long tenure here that he became acquainted with JICA and its training modules in collaboration with the Pakistani government. "Dealing with matters in such a big province requires us to develop complex policies. So, when a scholarship opportunity opened up for a long-term training program with JICA-DSP, I was very happy," he says.
Japan—an inspiration to the world
Shahid elaborated on why he was inspired by Japan and why he has wanted to learn specifically from them for a while now, "Japan has developed tremendously in the last 50 years to become the second biggest economy in the world. It has shown the world how development should occur. Moreover, it has invested impressively in the growth of other countries like India. So, the chance to learn from Japan, in Japan, is great."
The Experience that is Japan
Shahid goes as far as to call Japan "a heaven on earth." He doesn't mean that Japan is perfect in any way (he goes on to add that no country can be), but that the kindness of the people along with their attitude of being dedicated to their work, proactive in their thinking, clear in their communication, and systematic in their processes, go a long way to building a good society. These are eye-opening learnings he will carry with him from beyond the course.
He is also touched by the fact that Japan, especially the JICA system, was considerate enough to give him all the facilities he needed to practice the Muslim faith, such as a prayer room, halal meat, and easy access to a Mosque. "There is very little discrimination in general," he says. "No one comments negatively on nationality or race either."
Cherry on the cake for Shahid is the great student experience in terms of the interaction between students and between students and tutors.
Lake Biwa—Japanese Culture Manifest
"The first thing I noticed is the difference in the management of the water body," Shahid says. "Our lakes and rivers become polluted and impact both the flora and fauna as well as crop production. In contrast, Lake Biwa is preserved wonderfully."
Speaking of the specifics of the course, Shahid mentions the detailed displays in the Lake Biwa museum. "I learned of the history of how this lake was treated, saw wastewater treatment processes, flora and fauna conservation, irrigation systems, and drinking water supply chains."
Life after Japan
Shahid hopes to take these learnings to a PhD degree and then back to the Planning and Development Department of Pakistan. "My department deals with all sorts of projects from infrastructure—such as irrigation, flood protection, and highways—to social sectors such as health and education. The Lake Biwa seminar teaches much about the management of water bodies and its surroundings. And the JICA-DSP course teaches much more."
Before he leaves, he plans to write an article about his time in Japan. And today, he says, "I was so excited to talk about all that I have experienced at the Lake Biwa seminar that I'm not even feeling tired after the full day of activities."