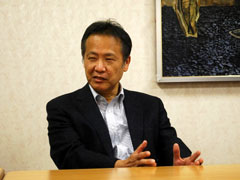 Professor Takuya BABA has played a central role in initiating individual JICA Development Studies Programs (JICA-DSP). We asked him about the special features of the programs offered at Hiroshima University, feedback from international students, and the kind of human resources the university is expected to develop in the wake of the coronavirus pandemic.
Name: Takuya BABA
Affiliation: Professor, Graduate School of Humanities and Social Sciences, Hiroshima University
Areas of Research: Social Science/ Pedagogy/ Curriculum Studies
Special features of programs at Hiroshima University
Individual programs at Hiroshima University are offered in English to both Japanese and international students. "Many students keep in touch with one another for a considerable period of time even after they have completed their programs. In some cases, they work together," says Professor Baba.
There are two notable aspects of our programs. First, we offer interdisciplinary programs involving around 30 faculty members from the Graduate School for International Development and Cooperation (IDEC; which currently consists of faculty from the Graduate School of Humanities and Social Sciences and the Graduate School of Advanced Science and Engineering), who specialize in economics, policy, engineering, peace, and education.
Second, in connection with the reorganization of Hiroshima University as a whole, common subjects are offered in our graduate programs which are, in general, designed to teach specialized areas only. We seek to develop researchers with a broad range of interests, including social issues. The JICA-DSP has a required course titled "Japanese Experience of Social Development – Economy, Infrastructure, and Peace/Japanese Experience of Human Development – Culture, Education, and Health," wherein students are expected to learn the history of development in Japan.
"Significance of learning history" as felt by international students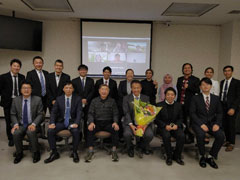 Many international students who took part in the program commented that learning the history of development in Japan made them realize the significance of learning the history of their home country. Professor Baba stresses the importance of history, explaining, "Studying history is not just about memorizing historical facts. It is a dynamic process continuing from the past to the present. Knowing history leads to knowing the present and it may change the way in which you see things. Without confrontation with history, you may not be able to move forward into the future."
Benson Banda, a principal education officer at the National Science Center in the Ministry of Education of Zambia, is one of the international students who got to know the significance of learning history. Based on what he learned in Japan, he has been active in his home country. In 2020, he won the JICA President Award along with his mentor, Professor Baba. "No matter how much you learn, there is a limit to what you can do for yourself. But if you form a team of several people, there is more you can do," said Professor Baba. Mr. Banda has organized the "KK team (material (Kyozai) research (Kenkyu) team)" and has been working on educational reform in Zambia.
Human resource development and education in the post-COVID-19 era
Professor Baba had been visiting foreign countries about ten times a year to carry out field surveys. In 2020, however, the novel coronavirus pandemic has made travel almost impossible. Currently, he is conducting surveys and research while communicating online with people abroad. He thinks there will be a need for a new method of combining field surveys and online surveys. "I am sure that there is going to be an increasing demand for 'coordinators' who have a good understanding of cultures and histories in Japan and the target region."
As a key point for future cooperation in the field of education, Professor Baba mentions the sharing of development experience in local areas. "I believe that there will be issues that cannot be captured by the sole focus on nationwide development. Hiroshima is a local city; therefore, it would be an ideal place to study as it helps you to take back your experience of development and cultural preservation at a smaller local level and apply it to local development in your developing country."
Program Information