The "Project for the Construction of Safe and Resilient Cities against Earthquakes and Tsunami Disasters" (Ecuador) held the 5th Joint Coordination Committee (CCC) on August 2nd, 2019.
Main counterpart institutions of Ecuador, such as the National Service of Risk and Emergency Management (SNGRE), the Ministry of Urban Development and Housing (MIDUVI), the representatives of the three pilot and secondary pilot municipalities, the Governing Council of the Special Regime of Galapagos represented by the Technical Secretary (three municipalities of Galapagos joined by Skype) participated, with a total of 77 people.
It was explained about the monitoring sheet, progress report that partner organizations have had, also indicating the objectives and challenges by Japanese experts.
The secondary pilot cities that are participating in future activities from June indicated the expectations of these activities under the guidance of the pilot cities.
Before starting the 5th JCC press media was conducted
It was informed and delivered officially the tsunami inundation maps prepared by Oceanography Research Institute (INOCAR) to pilot municipalities, and the signboards indicating altitude created by Japanese Experts were delivered by General Deputy Secretary of SNGRE, Eng. Espinosa
The signboards indicating altitude were developed based on the characteristics of municipalities, and these are expected to improve regional disaster prevention capabilities in the future along with the use of tsunami hazard maps.
Pilot municipalities should guide secondary pilot municipalities so that they can develop their future activities related to tsunami awareness and disaster prevention on "self-help" of residents. The counterpart works together to implement the aforementioned activities.
Before the 5th JCC began, a press media was conducted

Left side
INOCAR Teniente Alvarado, SNGRE-Eng,Espinosa, JICA-Mr Ishikawa, Project Leader Mr Tsukamoto
(August 2nd, 2019)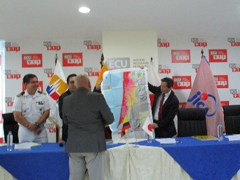 Delivered of tsunami maps

Right side
JICA –Mr Ishikawa, Vice Major of GADPotroviejo, SNGRE Eng.Espinosa、INOCAR Teniente Alvarado,
(August 2nd, 2019)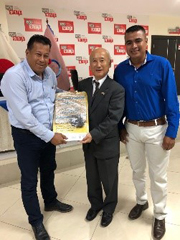 He delivered the signboards to each pilot municipality

Right and left side
Council Mr Torres , Experts Leader MrTsukamoto,
Responsible of Risk Reduction Management Unit of Atacames, Mr Hector Marin
(August 2nd, 2019)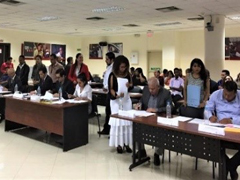 The authorities signed the minutes of the 5th JCC
The authorities of three pilot municipalities, MIDUVI, SNGRE、JICA –Mr Ishikawa 、Experts Leader Mr. Tsukamoto
ECU911, Training room (Samborondon)
(August 2nd 2019)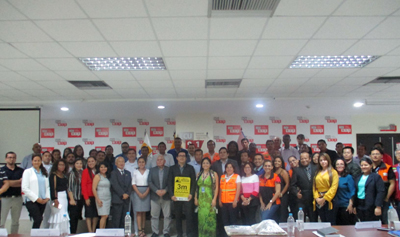 Group photo of 5th JCC participants
(Held in the center by General Deputy Secretary, Eng. Espinosa)