On January 20, 2020, the Cabinet Office of Japan held "Ecuador - Japan Private Sector and Risk Reduction Seminar" in Quito City in which 23 officials involved in the project CSR participated, among officials of the National Management Service of Risks and Emergencies (SNGRE), Ministry of Urban Development and Housing (MIDUVI) and pilot cities. This seminar was conducted by Japanese Government and introduced Japanese disaster risk reduction technology to disaster management officials in Ecuador. The Cabinet Office of Japan has established the "Japan International Public-Private Association for Disaster Risk Reduction: JIPAD" (JIPAD) in 2019 with the aim of promoting the deployment of Japanese disaster risk reduction technology abroad, and lead the improvement of disaster risk reduction capabilities worldwide. Seminars are held on risk reduction in Japan and abroad as part of these efforts.
In the seminar, the Assistant Deputy Minister of Japanese Government, Satoshi Murate, and the General Director for Disaster Risk Reduction and Public Relations, Kazuko Ishigaki participated.
In Session 1, Ms. Ishigaki made a presentation on disaster risk reduction in Japan, Ms. Estupiñan, Deputy Secretary of Habitat and Public Space of MIDUVI, and Mr. Espinosa, Deputy Secretary of SNGRE, presented the efforts of disaster risk reduction in Ecuador. In the presentation of MIDUVI and SNGRE, the achievements and progress of CSR project were also presented.
In Session 2, eight companies that participated in JIPAD presented technologies and products related to disaster prevention and response. The people involved in the project commented that it was a good opportunity to learn about disaster prevention efforts and technologies in Japan's public and private sector.
We will continue to actively provide opportunities to participate in these seminars and meetings in order to deepen the knowledge of project members and improve their capacity.
Presentation by Mr. Espinoza, Deputy Secretary of SNGRE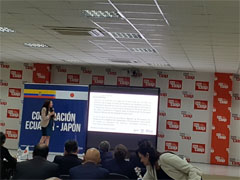 Presentation by Ms. Estupiñan, Deputy Secretary of Habitat and Public Space of MIDUVI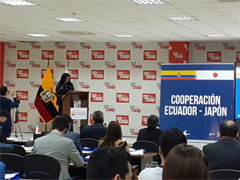 Ms. Ocles, National Director of SNGRE