On March 6, 2020, the Association of Ecuadorian Municipalities (AME) held a workshop in Quito City: Dissemination And Socialization Of Technical Tools For Construction Of Earthquake-Resistant Buildings. This event was held with the support of the "Project for the Construction of Safe and Resilient Cities against Earthquake and Tsunami Disasters" and the Ministry of Urban Development and Housing (MIDUVI), with the following purpose:
To socialize normative and technical tools (Handbook for Building Regulation Management - focused on earthquake-resistant constructions)
To share the experience on regulation by the pilot cities (Cities of Portoviejo and Salinas).
To deepen the understanding of the Ecuadorian Construction Regulation (NEC 15).
To Highlight the importance of efforts to improve earthquake resistance and the difficulties in its socialization.
On April 16, 2016, a M7.8 earthquake (announced by the United States Geological Survey) struck the northern area of Manabi province in Ecuador, and it is estimated that more than 660 people died, around 30,000 people were evacuated. and many buildings, including houses and schools, suffered serious damage. One of the causes of human and building damage due to the earthquake was that the construction system was not working properly. Therefore, one of the goals of this project for "Output 3 is that: The implementation structure of the management of construction process regulation is established at municipal level, based on the Building Regulation Management".
This workshop was held as an activity related to Output 3, and 65 people in charge of land use planning and municipal planning attended. The counterparts from the pilot cities of Portoviejo and Salinas attended as speakers and shared experiences regarding operational work. Likewise, active participation by the delegates was appreciated and their participation in workshops for future operations is expected again.
This year, the project is planning seminars for all municipalities at national level with the counterpart institutions of MIDUVI and AME to disseminate the "Handbook for Building Regulation Management". Constant efforts are being made to improve the regulation of construction systems and to construct earthquake-resistant buildings.
"Handbook for Building Regulation Management" in MIDUVI web page (PDF/6.49MB) (external link)
Prepared by Yu Kumagai (CSR Project Coordinator from JICA)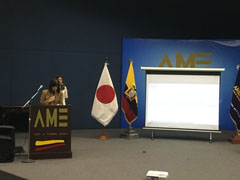 Remarks by Ms. Akiyama, JICA Office in Ecuador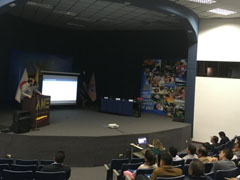 Presentation by Ing. Ruales from Deputy Secretariat of Habitat and Public Space from MIDUVI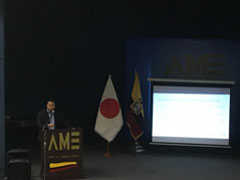 Presentation of Ing. Celorio Director of Strengthening and Capacity Development in Risk Management from SNGRE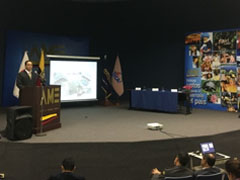 Sharing experiences on operations of construction systems by Engineer Gerron of GAD Portoviejo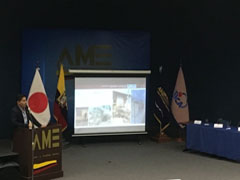 Sharing experiences on operations of construction systems by Ing. Suarez from GAD Salinas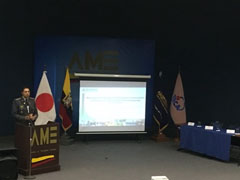 Presentation on the "Handbook for Building Regulation Management" by Captain Yepez from ESPE