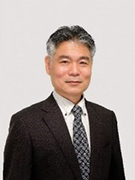 Welcome to JICA El Salvador Website!
My name is Masaru KOZONO and I have assumed the position of JICA El Salvador's Chief Representative from July 2021.
Nice to meet you!
I have experiences in management positions in areas of Information System and Procurement at the JICA headquarters in Tokyo. Previously, I have had opportunities to work in Guatemala, Bolivia, and Peru. Now I am looking forward to working in El Salvador.
Under JICA's global vision "Leading the world with trust," JICA El Salvador contributes to promoting self-reliant and sustainable development of El Salvador. Our office focuses on the following three areas:
Economic revitalization and employment expansion;
Disaster prevention and environmental conservation for sustainable development;
Promotion of inclusive development.
During my tenure, I hope to strengthen the cooperation and friendship between El Salvador and Japan through the execution of projects under the three areas mentioned above. JICA El Salvador keeps working with all counterparts and exploring innovative forms of cooperation in a post-pandemic world. We welcome your opinions to achieve our objectives.
As the new Chief Representative, my duty has begun with the Project for Human Resource Development Scholarship (JDS).
On July 16, 2021, Salvadoran officials visited our office for the first time before leaving El Salvador to pursue master's degrees at Hiroshima University, Meiji University, and International University of Japan (two per university respectively). The meeting between JICA El Salvador and JDS fellows took place both online and face-to-face, as I was still in Japan. Furthermore, one Salvadoran fellow who completed his master's degree at Tohoku University also joined the meeting from Japan. The purpose of this meeting was to know the fellows and their prospects.
El Salvador is the first country in Latin America where JDS Project has been implemented from this year, so this group of fellows who visited our office is the first generation participants. It is expected that, upon completion of their studies in Japan, they will contribute to the socioeconomic development of their home country by actively participating in the formulation and implementation of public policies.
From the JICA El Salvador office, we offer our full support to this group of fellows.
Good luck and enjoy your life in Japan!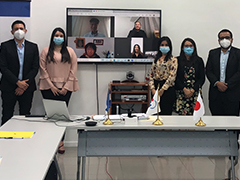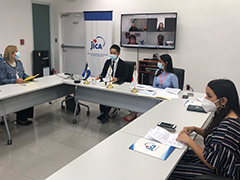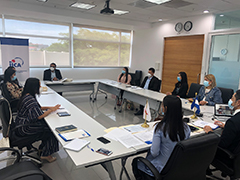 Finally, I would like to inform you that we continue to share information about JICA's work in El Salvador, so please visit our website frequently.
July 2021
KOZONO Masaru
Chief Representative
JICA El Salvador