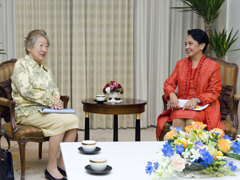 Mrs. Ogata and President Arroyo discuss the situation in Mindanao and aid to Africa during a talk on Wednesday, May 23.
President Sadako Ogata and Philippines President Gloria Macapagal-Arroyo have reviewed the situation in the war-devastated province of Mindanao and the use of Philippines expertise to help Africa.
They met in Tokyo Wednesday (May 23) during a four-day visit to Japan by President Arroyo during which she will also meet Prime Minister Shinzo Abe and business leaders.
The Japan International Cooperation Agency (JICA) has been active in the Philippines in various areas for many years, and during a visit to Mindanao last year Mrs. Ogata pledged her organization would continue to help restore stability there after more than three decades of war between the government and Islamic and communist insurgents in which tens of thousands of persons were killed.
A two-year grassroots study by JICA to assess the social, economic, and development needs of the province will be launched later in May.
In addition to reviewing that situation, and Mrs. Ogata's pledge to continue assistance, not only in Mindanao, but also in other areas such as the environment and human security, the two leaders also discussed the situation in Africa.
Mrs. Ogata has said that JICA will devote more resources to help that continent to try to escape from its poverty trap and she told President Arroyo that she hoped the Philippines would use its own economic success and expertise in joining efforts to help Africa.
The new JICA study in Mindanao will be conducted in areas under the control of the Moro Islamic Liberation Front (MILF) primarily at the level of the barangay, the basic political unit in the Philippines. Based on the results, so-called quick impact projects in education, healthcare, water supply, and economic improvement will be launched.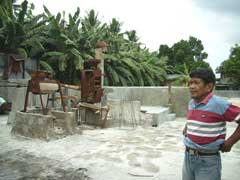 Mill factory destroyed in the conflict
As in previous years, JICA continues to provide assistance to the Regional Government of the Autonomous Region in Muslim Mindanao (ARMM), particularly in the areas of medical care and agriculture.
In March, five local officials were sent to Malaysia to study Halal, or Islamic food processing techniques.
JICA is dispatching new evaluation teams to help develop local industry and infrastructure. It is conducting community development field studies in both the ARMM and MILF areas through nongovernmental organizations (NGOs) and promoting cooperation frameworks in rice cultivation and livestock farming.