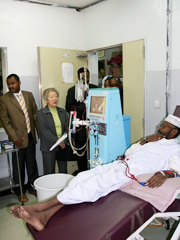 Mrs. Ogata visits a Japanese supported hospital in Khartoum.
JICA President Sadako Ogata Sunday met Sudanese President Omar al-Bashir, other government, international and Japanese officials and visited a Japanese supported hospital on the first leg of a two-nation African swing.
Mrs. Ogata arrived in the Sudanese capital Friday at the start of a seven-day visit to underline the importance JICA places on expanding its operations on the continent.
It was her first visit to Africa's largest nation as president of the development agency. JICA had closed down its operations in Sudan in 1992 because of difficult political circumstances but reopened its representative office in Khartoum in 2007.
Mrs. Ogata who had previously met President Bashir when she was the High Commissioner of the UN Refugee Agency (UNHCR) briefed him on JICA's current activities in Sudan and hopes that it could expand operations to other parts of the country, including the east and the north. She also briefed him on the forthcoming summit meeting in Japan, the Fourth Tokyo International Conference on African Development (TICAD IV).
They also discussed the situation in Darfur and the impact of climate change and desertification on that conflict.
There is a lot of room for further development assistance in Sudan, Mrs. Ogata said following the meeting: "Sudan is a huge country, but it also has huge problems." She emphasized that some JICA projects would be so-called quick impact projects, particularly in southern Sudan where she flew after the presidential meeting in the Sudanese capital of Khartoum.
Quick impact projects are often small, community-based projects which can be completed quickly and offer immediate assistance to communities.
"I am encouraged," the JICA president said. "There is a lot of room here for our work. Currently it is a small presence in a huge country with huge needs."
In the southern Sudanese capital of Juba Sunday, Mrs. Ogata met Dr. Barnaba Marial Benjamin, minister of regional cooperation in the government of Southern Sudan and they immediately toured a project JICA recently completed in rehabilitating the Nile River port, a vital lifeline to the region.
"JICA has a very important, indeed a crucial role to play," in the region's rehabilitation, the minister said. "JICA's very presence and work is vital, but it will also encourage other donors to offer assistance."
The minister described the region's problems as totally daunting. An estimated 4 million people were uprooted during several decades of conflict, but following a peace agreement in 2005, some 1 million people have returned, he said. He hoped a further 2 million would come home by the end of 2009, but the region remains devastated with most of its basic infrastructure still destroyed.
Mrs. Ogata's overall message to President Bashir and other leading officials that she met was that JICA considered Sudan with a population of some 40 million people as very important in her agency's overall approach to helping Africa.
JICA officials said the agency recently sent a technical team to also study the possibility of dispatching volunteers to Sudan – an important component in the organization's overall development assistance to individual nations.
It is studying the feasibility of starting programs in the Khartoum area in such fields as vocational training, maternal health care, management training and water supply.
Mrs. Ogata visited Ibn Sina Hospital in Khartoum which was built with Japanese assistance in 1983, though aid was halted nine years later. JICA began helping to rehabilitate the hospital and provide new medical equipment, though. During her tour of the facility Saturday, she was shown worn equipment which was installed nearly a quarter century ago and is still in use. Hospital administrators underlined the urgency of new facilities.
She also met with Sudanese officials who had undergone training in Japan in the last few years to discuss the effectiveness of the programs and possible ways to strengthen training in general.
Mrs. Ogata will fly to neighboring Ethiopia Tuesday February 19 where she will also inspect projects and deliver a keynote speech on development to the 53-member African Union at its headquarters in Addis Ababa.
Her visit precedes a major summit on Africa, the Fourth Tokyo International Conference on African Development (TICAD IV) which will be held in May and will emphasize efforts to accelerate African economic growth and reduce poverty.