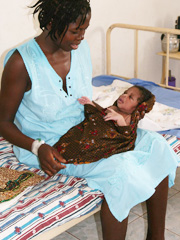 A mother and her child at the Juba Teaching Hospital which JICA has helped rehabilitate.
It is reputedly the fastest growing city in Africa.
In a little over two years since a peace agreement was signed to end several decades of civil war, the population of the southern Sudan capital of Juba has jumped from 250,000 to around 1 million. Each day hundreds more arrive.
The city is undergoing the kind of growth pains not even the most dynamic of cities normally face.
JICA President Sadako Ogata is spending three days in the southern region taking a firsthand look at its problems. After a gap of many years, JICA recently renewed operations in Sudan, and in Juba it has already helped rehabilitate the River Nile port, Juba's lifeline to the outside world, and the city's only functioning hospital.
Mrs. Ogata Monday, February 18, saw both projects and then met for 45 minutes with General Salva Kiir Mayardit, president of the Government of Southern Sudan. She described JICA's current activities as 'modest' but President Mayardit insisted that the agency's presence was vital and highly appreciated by his government.
JICA is currently studying the feasibility of several other projects in the Juba area including water and transportation rehabilitation.
Juba has undergone a population boom since the signing of a formal peace agreement between the central government in Khartoum and southern rebel forces. At times during the war, the city was a virtual ghost town and most of its basic infrastructure including roads, bridges, factories, clinics and homes were destroyed.
An estimated 2 million people died in the conflict and more than 4 million fled to surrounding areas or neighboring countries as refugees. Some have begun to return and Juba's population soared to around 1 million.
However, Minister of Regional Cooperation Dr. Barnaba Marial Benjamin said an additional 2 million people could return to the region in the next two years.
Juba reflects the massive return. It is a mad mosaic of traditional mud-straw conical tribal huts, container homes and shops, tent cities, new bars, restaurants, cyber cafes and air-conditioned hotels.
UN military helicopters crowd Juba's airport, their presence designed to strengthen the peace accord. UN humanitarian vehicles and those from dozens of international nongovernmental agencies (NGOs) crowd the dirt streets.
Naomichi Murooka, a senior JICA program officer who is undertaking two project feasibility studies, said until recently Juba boasted only 2 kilometers of paved road. Other roads were little more than deeply rutted murram paths. In the last couple of weeks this had doubled to around 4 kilometers and the government is rehabilitating a total of around 60 kilometers of roads.
When new road paving began recently, he said, it was headline news in the local media.
When she visited the Juba Teaching Hospital which JICA has helped rehabilitate, Mrs. Ogata was told by hospital administrators about the rapidly changing situation in Juba.
Malaria remained the number one problem, they said, but traffic accidents were now also a serious worry. For the first time in its history, Juba was experiencing traffic jams.
Mrs. Ogata, who was the High Commissioner for the UN Refugee Agency (UNHCR) during the 1990s, was also briefed on the refugee situation by organization officials.
"Refugee repatriation has started," UNHCR local representative Bhairaja Panday said. "Rehabilitation in the south has started. But the country remains very fragile." He said a "sunshine story is being written in Sudan" but it would only be ultimately successful if agencies such as JICA continued to offer assistance.
During a meeting with Sudanese officials who have received training through JICA in their respective fields, several suggested, as did a similar group in Khartoum, that in addition to programs undertaken in Japan, JICA should consider launching additional training projects in developing countries themselves.
Mrs. Ogata was scheduled to fly to neighboring Ethiopia Tuesday before returning to Japan later in the week at the end of her seven-day, two-country African visit.