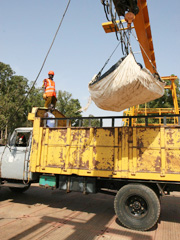 Unloading cargo at Juba's newly rehabilitated Nile River port.
It is one of the world's most challenging transportation links - battling against the currents of the mighty Nile River and traversing burning deserts, endless savannah grasslands and almost impenetrable swamp.
And when vital cargo finally reached the southern Sudan capital of Juba after a nearly three-week journey, it had to be laboriously manhandled over mud flats to the river bank.
The Japan International Cooperation Agency (JICA) recently completed the rehabilitation of a modest port facility, including the installation of a harbor-side crane and when President Sadako Ogata visited the facility Tuesday (February 19), a huge barge was unloading its cargo of barrels of road sealant which the city desperately needs to begin rebuilding the first 60 kilometers of city roads.
During several decades of intermittent civil war, most of Juba's highways and other vital infrastructure such as bridges, factories and government buildings were destroyed, damaged or abandoned.
The upriver journey was seemingly endless but with the new crane fully operational, port manager Lawrence Wani said proudly it "now takes only a day to unload the barge. It is a new beginning for Juba," he added as Mrs. Ogata toured the facility.
Juba is deep in the African heartland. The Nile River is expected once again to be the major transportation link with the outside world, particularly for heavy duty items, needed as the capital frantically rebuilds.
In little more than two years, its population swelled from around 250,000 to more than 1 million and hundreds of returning refugees continue to arrive daily.
In addition to the river highway, the government also wants to restore highway links to neighboring countries such as Kenya and Uganda.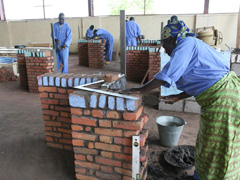 Learning bricklaying at Juba's multi-service training center.
On the last of her five days in Sudan, Mrs. Ogata also toured a multi-service training center where JICA expert and chief technical adviser Sachio Yamamoto has been helping organize basic skills training for hundreds of southern Sudanese in such areas as motor mechanics, cooking, computers and carpentry.
Forty-five-year-old Jenety is learning to be a bricklayer and she told Mrs. Ogata "I tried for so long to get someone to help me rebuild my home in the town of Yei when I returned, but I couldn't find anyone to do the work. So I decided to learn how to lay bricks myself and I will eventually rebuild my home with this skill."
More than 4 million people fled the south during the civil conflict. Many have begun to return, but the region remains devastated and the basic skills being taught in a massive warehouse here will be vital in helping rebuild the south where a comprehensive peace agreement was initialed in 2005.
Labor Minister Awut Deng Acuil told Mrs. Ogata "There is an old Sudanese saying. When a person visits someone who is sick, that person is a true friend. The war in the south has now ended, but we have major battles ahead to rebuild our society and consolidate the peace. And your visit today underlines JICA's commitment to help."
Later Tuesday Mrs. Ogata flew to neighboring Ethiopia where she was scheduled to visit projects and address the 53-nation African Union on Thursday.
At the end of her Sudan visit she said: "Juba seems to be the brink of very good things. This city obviously has enormous potential, but the challenges are huge too."
Mrs. Ogata emphasized this theme throughout her visit to Sudan, Africa's largest country which has struggled in the last few years with chronic disorders. Even as the long-running conflict in the south reached a peace agreement, another conflict in Sudan's Darfur region erupted and is considered possibly the world's worst humanitarian crisis today. The situation in the east of the country is also fragile, with the presence of tens of thousands of refugees there.
JICA has expressed its willingness to expand operations in Sudan, particularly in regions where conflict recently ended and where there was a good possibility of peace and sustained economic development.
Mrs. Ogata's weeklong, two-nation visit was designed to highlight JICA's increasing commitment to the entire continent and also to underline the importance of a forthcoming summit in Japan, the Fourth Tokyo International Conference on African Development (TICAD IV) in May. That meeting will concentrate on helping to accelerate African economic growth, the impact of climate change and the concept of 'human security' in development projects.